ISIS downs Iraqi military chopper killing two pilots
Published time: 13 Dec, 2014 14:23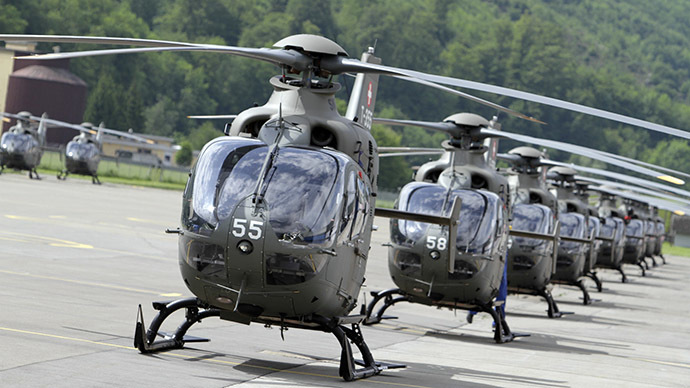 Islamic State militants have shot down an Iraqi helicopter near Samaara, about 110 kilometers north of Baghdad. Both pilots were killed.
The insurgents used a shoulder-fired rocket launcher to down the EC635 military chopper on the outskirts of the sacred Shiite city late on Friday night, reports AP, citing senior Defense Ministry officials.
The EC635, a 3-ton multipurpose aircraft, is used for troop and cargo transport, surveillance and armed combat missions.
Militants near Beiji, an industrial center home to Iraq's largest oil refinery, have shot down at least two other Iraqi military helicopters recently. The attacks have stoked fears that the radical Sunni fighters managed to capture ground-to-air missiles, capable of bringing down airplanes, when they seized army bases in Iraq and Syria over the summer.
Concerns over unsafe airspace prompted European airlines, including Virgin Atlantic and Air France, to reroute commercial flights in order to avoid flying over Iraq.
The Islamic State (IS, formerly ISIS/ISIL) has captured huge amounts of territory in Iraq and Syria during their bloody insurgency. Since the summer the group has carried out mass killings and beheadings, publicizing the atrocities on social media.