Porn angel? Woman avoids jail after filming naughty videos inside Austrian church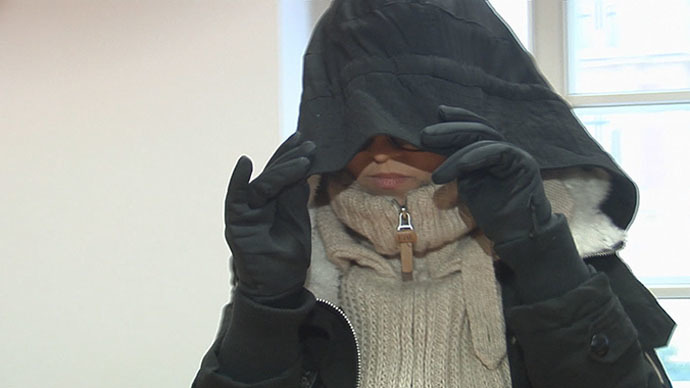 A woman known as 'Babsi,' who was given a suspended prison sentence for shooting two pornographic films inside an Austrian church, says she is an "angel" compared to others, and that her only crime was "turning on" viewers with her generous sized breasts.
"Viewers are turned on by my fat tits," the 29-year-old church porn star said, while confronting a swarm of journalists upon leaving Linz court on Thursday.

Known only as 'Babsi,' the woman covered her head with a hood – but apparently not because she was ashamed of her less than holy deeds.
"Believe me, if you look at what other people get up to I am really an angel," the Polish-born woman said.

Her face cannot be seen in the porn clips she made in the church. An informant tipped off police in August, after recognizing her breasts.
READ MORE: Sin of the flesh: Woman arrested for filming porn in Austrian church
The woman could have faced up to six months in prison, but received only three months of probation for interrupting religious practice and vilifying religious doctrine. She said she had no idea that her naughty activities were illegal, and finds "the whole thing completely inhuman," as quoted by the Mirror.
READ MORE: Topless Femen deface Christian cross in Vatican (GRAPHIC VIDEO)
Busty Babsi apologized to the church's priest, the newspaper reported, but said she is "proud" for being "simply really good at what I do," adding that "the whole country" is watching her videos.

Some of Austria's Catholics have urged for the church to be reconsecrated. However, the move has been deemed unnecessary, as Babsi's sins were not believed to be enough to drive out God.

Meanwhile, the amateur porn maker says she does not want to do anything of the kind ever again. She claims that she has not made any new videos in the past four months, and that she now works as a cleaner, Austrian Heute reported.