Sin of the flesh: Woman arrested for filming porn in Austrian church
Published time: 15 Aug, 2014 13:10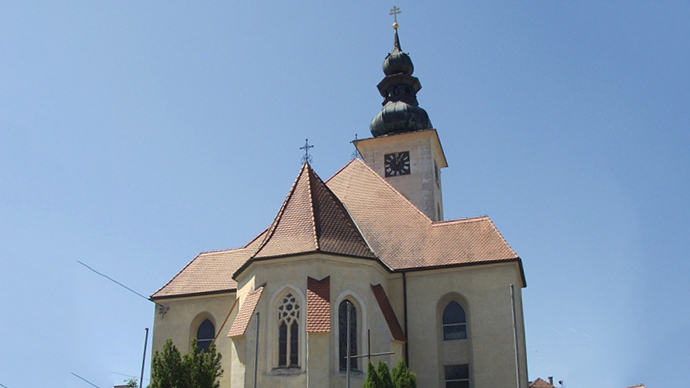 An Austrian woman has been arrested for filming pornographic videos inside a church. She was apprehended by police after avid viewers recognized the house of worship - and also her breasts.
The videos which were posted online, showed the woman, who is 24 and originally from Poland, according to the Local, opening her top and playing with herself. Despite having her hands full, she was still able to hold a bible and rosary beads, while creating the clip.
She did not show her face while filming the clip, however porn fans were still able to track her down. One person recognized the Catholic Church in Hoersching, which is near the city of Linz, while another ardent follower notified a priest after recognizing the woman's breasts.
[VIDEO] #YouTube: actriz porno 'Babsi' se masturba en iglesia http://t.co/SyHGYnyHkUpic.twitter.com/8bvADvj8XW

— El Popular (@elpopular_pe) August 10, 2014
The woman, who immigrated to Austria with her parents when she was young, had uploaded the films to the internet under the name of 'Babsi'. The pastor, Bernhard Pauer immediately contacted the police after the incident had been reported. They arrested the 24-year-old for offending religious feelings and desecration of a church.
Police spokeswoman Simone Mayr told AFP that the woman, who has not been named, could face up to six months in jail for "vilification of religious doctrines."
"The woman has confessed and has apologized," Mayr said. "It is now up to state prosecutors to decide whether this will go to court ... She could also be fined instead of jail."
"We have identified a suspect. She has already been questioned and has made a full confession," said police spokesman David Furtnerteich.
The incident caused a debate amongst local Catholics as to whether the church would need to be re-consecrated, due to the women's actions. However, speaking the Kurier daily, Pauer said, "The church does not have to be re-consecrated ... The presence of God cannot be driven out by sin."