Sky's not the limit: World's first 'Jetman' flies over Dubai desert (VIDEO)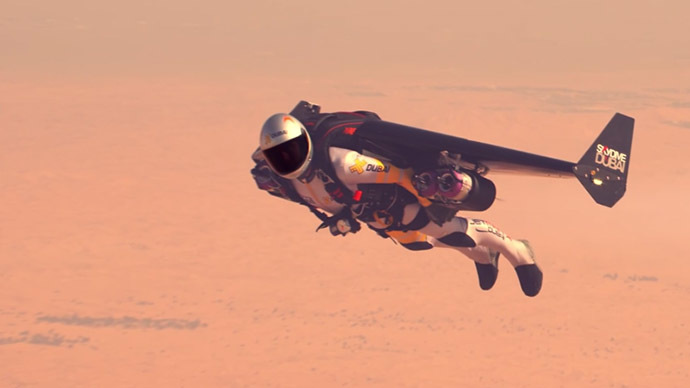 A former fighter pilot and Guinness record holder – known as 'Jetman' – has performed a new stunt, taking over the skies of the United Arab Emirates. High-flying Swiss national Yves Rossy teamed up with Dubai, flying above the wealth of its land.
"To fly alone is great, but to fly with another guy is greater," Rossy, who is equipped with a pair of jet-propelled wings, said in a new 4K video, before taking part in a formation flight with Hungarian aerobatics champion Veres Zoltan, conquering the heights in cloudless Dubai.
Rossy and his futuristic jet suit have partnered with Dubai to push yet higher boundaries within the realm of anti-gravity experiences.
A new journey, a new beginning... #JetmanDubai#jetwing#YvesRossypic.twitter.com/0Hf5vAexJa

— Jetman Dubai (@jetmandubai) November 21, 2014
Naming his challenge a "culmination of decades of fulfilling a childhood dream through technological innovation, determination, teamwork and courage," the ex-Swiss Air Force pilot took to the skies of the UAE, celebrating its 43rd National Day, as both he and Sheikh Hamdan - the Crown Prince of Dubai - announced on social media.
A photo posted by Fazza (@faz3) on Dec 12, 2014 at 5:30am PST
After jumping from a helicopter over a desert, Jetman soared over Dubai with the help of his four-engine wings, performing aerobatic moves controlled by his body movements.
'A journey of a thousand miles must begin with a single step'. We're ready to jump into a fantastic flight… Are you? pic.twitter.com/tJfIiW1YeA

— Jetman Dubai (@jetmandubai) December 10, 2014
Using joysticks tapped into his hand grips, Jetman – who once piloted Boeing 747s for Swiss International Airlines – can travel at a speed of over 124 miles per hour, even while loaded down with some 120 pounds (55 kg) worth of wings on his back.
A meeting between the world's smallest and largest #jets! :) @Airbus#Jetmanpic.twitter.com/xewj8sUYsn

— Jetman Dubai (@jetmandubai) December 5, 2014
READ MORE: I believe I can fly: Jetman soars over Rio (VIDEO)
The Dubai flight is the latest achievement in Jetman's long list of adventures. After flying over the Swiss Alps in 2008, Rossy has also crossed the English Channel and traveled above the Grand Canyon and Rio's Christ the Redeemer. Jetman also flew over Mount Fuji in Japan last year. But he promises "the best is yet to come."
Hi Colin! Here's how #Jetman lands... :) @jaguarxf@WhatsOnDubai#YvesRossy#JetmanDubaipic.twitter.com/dZcP2SC0mo

— Jetman Dubai (@jetmandubai) December 11, 2014