UAE plans to become 'first ever country' to deliver govt services by drones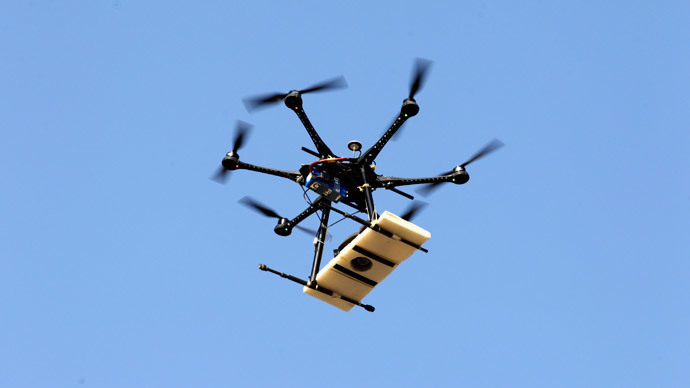 The United Arab Emirates has announced it is embarking on a drone project, which, if successful, will see government documents delivered to citizens by unmanned aerial vehicles. This will follow six months of testing.
The prototype for the gadget was unveiled on Monday by Mohammed al-Gergawi, UAE's minister of cabinet affairs.
"The UAE will try to deliver its government services through drones. This is the first project of its kind in the world," al-Gergawi said, as cited by Reuters, specifying that the services would include delivery of identity cards, driving licenses and other permits.
The vehicle, resembling a butterfly, is about half a meter (1-1/2 feet) across and has a section for small parcels on top. It's colored white and has a UAE flag drawn on it. The drone is battery-operated and propelled by four rotors.
Fingerprint and eye-recognition security systems will make sure the cargo lands in the right hands, according to the project designer, UAE engineer, Abdulrahman Alserkal.
"Within a year we will understand the capabilities of the system and what sort of services, and how far we can deliver. Eventually a new product will be launched across the whole country," Gergawi said.
The plan is to have the drones tested in Dubai first for six months, before introducing the technology nationwide within a year. The problems drones might potentially face in the UAE are extremely hot temperatures, which in summer exceed 40 degrees Celsius (104 degrees Fahrenheit), and also heavy sandstorms which are frequent in the country.
UAE is actually not the first to announce a delivery-by-drones program.
Amazon unveiled a similar project in December. The company's Prime Air system will, according to Amazon CEO Jeff Bezos, deliver goods to US customers in just 30 minutes. This will apparently be achieved with 'octocopter' mini-drones.
Amazon, however, has not announced any specific deadline for the launch of the program.
"Putting Prime Air into commercial use will take some number of years as we advance the technology and wait for the necessary FAA [Federal Aviation Administration] rules and regulations," Amazon.com says.
In November last year, the FAA presented a detailed plan for drones to roam across American skies by 2015.
You can share this story on social media: