Jailed Greek youth protest icon allowed to attend uni, ends hunger strike
The 21-year-old Greek anarchist—radicalized after witnessing the police killing of a close friend—has ended a month long hunger strike as officials passed an amendment allowing prisoners to attend university classes, quelling a wave of violent protests.
Nikos Romanos, who is serving a 16-year sentence after being convicted of armed robbery last February, was being held at a hospital in critical condition when he was told of the new legislation. The student had begun refusing liquids on Wednesday morning prior to learning of the reform.
On Tuesday, the Supreme Court denied an appeal to overturn the earlier rejection of Romanos' education furlough. The amendment—passed on Wednesday—enables prisoners to attend classes while wearing an electronic tracking band after one semester of study by correspondence.
The student's lawyer, Fragiskos Ragkousis sees Wednesday's decision as a vindication for justice.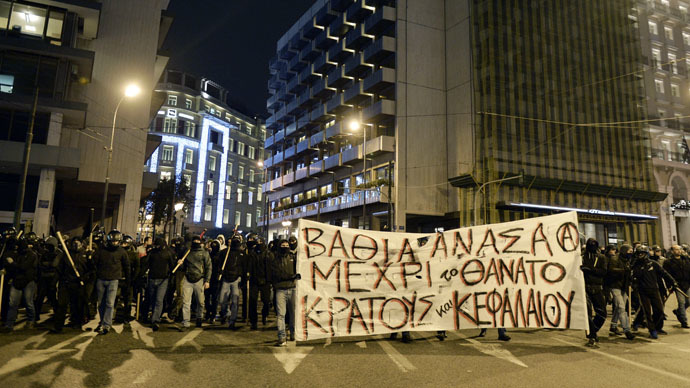 "Democracy and legitimacy won. This kid fought for his life, it was a very painful and difficult battle," he was quoted as saying in Reuters. "What is important is that a human life was saved."
Violent clashes broke out over the weekend as thousands of protesters conducted an annual march through Athens in memory of the police slaying a teenager in 2008. Romanos, a close friend of the victim, had witnessed the killing, after which he became active in various anarchist circles. This year's demonstrations were held in solidarity with Romanos. The protests took a violent turn as rioters set fire to shops and threw petrol bombs at police who responded with tear gas and water cannon.
READ MORE: Athens on fire as rioters mark anniversary of police killing of teen
Romanos' arrest two years ago drew ire from supporters angered at his brutal beating by the police. Adding fuel to the fire was the police's slipshod doctoring of his mug shot—altered to make his injuries look less severe. Romanos has come to symbolize the polarization of Greek society and popular discontent with the Greek government.
The student's father, Giorgos Romanos, is optimistic about the latest wave of protests in support of his son and believes they may herald a better future for the country.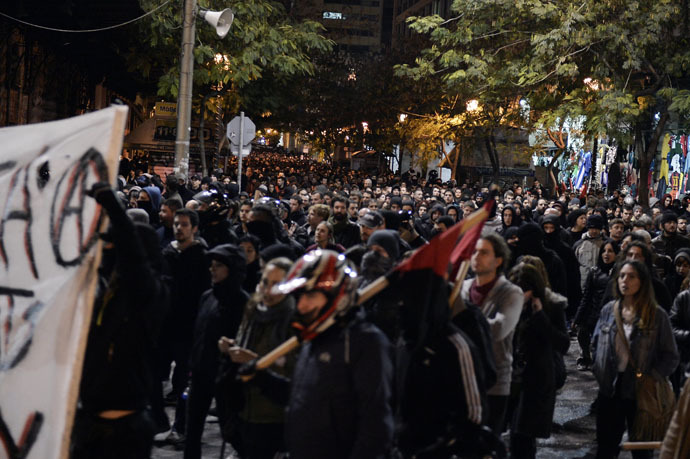 "So for all these young people protesting in the streets, Nikos means something and maybe their support will lead somewhere in the future. And maybe this is good for the country too," the 58-year-old dentist told RT. "The anger brewing among the youth comes from the crisis, which is not only financial but also social all these years the country has been suffering."
Romanos blamed the government for dragging the country down. "Specific people, political parties are responsible for all of this. In other words, the economic and political elite of this country is to blame," he said.
Prime Minister Antonis Samaras met with Romanos' father on Monday in an attempt to ease tensions in the nation's capital. Samaras, who is facing tough parliamentary elections for a new head of state later this month remains anxious to hold onto popular support. If he loses, the left-leaning Syriza party, which rejects the bailout program and its prescribed austerity measures, will be swept into power, renewing fears that Greece may have to exit the eurozone.
You can share this story on social media: