Greek students rage against educational reforms (VIDEO)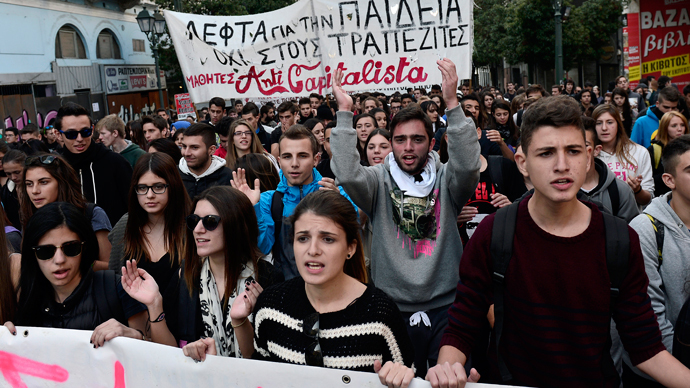 Thousands of student protesters in Athens have tried to breach the barricades in front of the parliament building facing a large security presence from police, demonstrations once again engulfed the Greek capital.
Up to 4,000 students, university staff and teachers from a number of educational institutions including the University of Athens took to the streets in Athens on Thursday, to protest against cuts in the educational sector as well as increased anti-protest security measures across educational institutions.
Highschool students protest against gov's changes in educational system #Athens#Greecepic.twitter.com/RoGDUpvVLm

— dromografos/Skar (@Skar_) November 6, 2014
The protesters reject the government plans in the "new school" bill, which wants to introduce changes to the exam system, merge schools, and cut the number of teachers. According to the Greek Reporter since Monday some 500 secondary schools across the country have been occupied by protest sit-ins.
Protesters were chanting slogans and carrying banners to send a clear message of defiance to the Education Minister Andreas Loverdos' who recently announced stricter security measures against such sit-ins. On Tuesday, Supreme Court prosecutor Efterpi Koutzamani asked for officials to act to ensure that public schools are not damaged during student occupations.
Έξω από τη βουλή τώρα #katalipseispic.twitter.com/WxhSSnxFX4

— Sapienchia (@sapienchia) November 6, 2014
#Greece#6N High school & university students protest in #Athens against capitalist educational system and the >> pic.twitter.com/UWOojqrhbW

— th anonymous (@ori_no_co) November 6, 2014
As for university students, they stand in opposition to the government plans to grant custody of universities to private security companies as well as to an Education Ministry plan to expel students who have taken longer than 11 years to complete their degrees.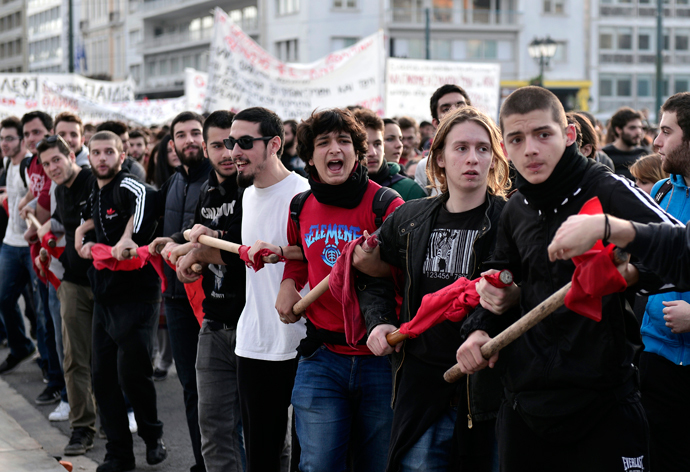 You can share this story on social media: