Cash-strapped Greece protests against further austerity
Public and private services have shut down across Greece as unions hold a 24-hour general strike against additional austerity cuts in the recession-plagued country. Protests are taking place as Athens holds talks with its 'troika' of creditors.
Wednesday's strike disrupted public transport, halted ferry and train services, shut down state-run schools and left state hospitals and the ambulance service functioning with emergency staff, the Associated Press reports.
Dozens of flights were cancelled or rescheduled as air traffic controllers walked off the job for three hours from noon in support of the action.
"Workers, pensioners and the unemployed are going through an endless nightmare," Reuters quoted a port workers statement. "The government and the troika are destroying this country."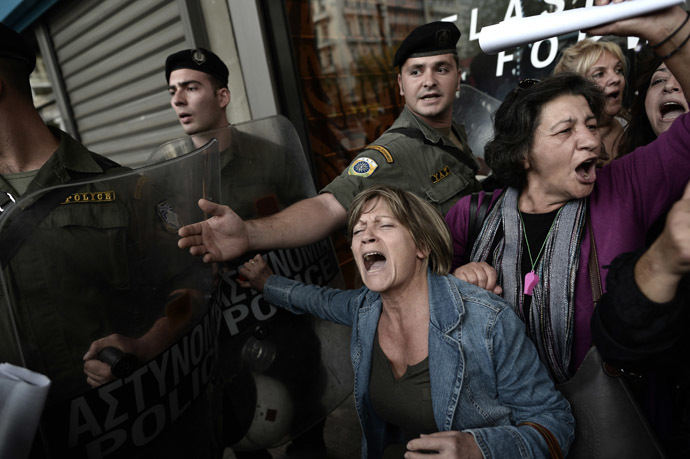 Greek labor unions fear the country will impose more wage and pension cuts to meet the terms of the bailout packages granted by the so–called 'troika' of international lenders – the European Commission, European Central Bank and the International Monetary Fund.
Another fear is more job cuts in the Greek public sector, as well as privatization.
Greece has been receiving 'financial lifeline' from international lenders since 2010, having secured the estimated $315 billion in loans. All this money was granted on strict terms that resulted in massive job cuts across Greece. Unemployment in the country has hit new record highs, with the latest figures at 27.6 percent, which means 1.37 million people out of a job.
A separate report by the country's key statistics service ELSTAT said Greeks became about 40 percent poorer than 5 years ago, and the government austerity measures haven't produced promised growth.
Greece is still buried in sky-high debt that exceeds 160 percent of GDP. The inability to make a major turnaround and exit recession has prompted talks that the country might need a third bailout in 2014 of about $1.35 billion.
The protests in Greece take place at a time when Athens and 'troika' are trying to figure out the budget gap that needs to be filled. While Greece insists the shortfall is about 500 million euros and could be easily plugged, Finance Minister Yannis Stournaras has conceded creditors expect the gap to be five times as big.
You can share this story on social media: