Shirtfront: What Abbott threatened to do to Putin becomes word of year in Australia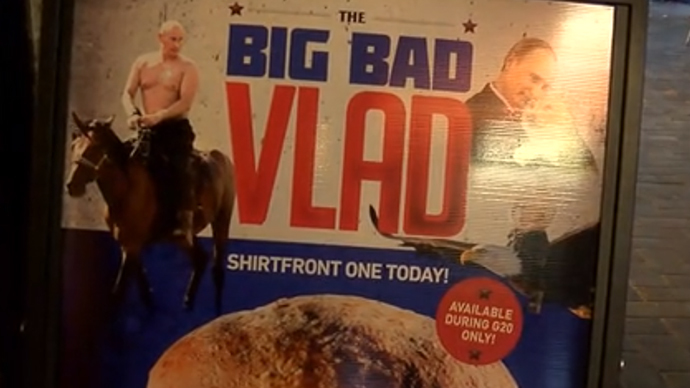 The Australian National Dictionary Center has named "shirtfront" the word of the year. The term gained popularity when the country's Prime Minister Tony Abbott talked of his plans to confront Russian President Vladimir Putin at the G20 summit.
It was quite a rebirth for the word, which was not as widely used before Abbott's October comment. But then the prime minister said this: "Look, I'm going to shirtfront Mr. Putin...you bet you are, you bet I am."
Not that many Australians understood what he meant, even though the comment was likely designed to gain support from Australian citizens. The words were said after Malaysia Airlines flight MH17 crashed in eastern Ukraine with 27 Australians on board. Though the investigation had hardly kicked off at that time, many fingers were being pointed at Moscow instead of waiting for the probe to produce at least some form of a result.
READ MORE: 'It's called a koala, Tony': Twitter explodes after Abbott trades 'shirtfronting' Putin for cuddly joint pic
As the November summit in Brisbane unfolded, people wondered if "shirtfront" actually meant hand shaking or koala hugging – because Abbott certainly seemed anything but intimidating as he posed alongside Putin while both leaders held a cuddly marsupial of their own.
However, dictionaries define the term as a front-on charge designed to knock an opponent to the ground.
So that's what a shirtfronting looks like. #G20Australia#DropbearDiplomacy#shirtfront#G20pic.twitter.com/4ESyTZZWvy

— Jane Wardell (@TheJaneWardell) 15 ноября 2014
Abbott backtracked on his word choice, saying instead that he would have a "very robust conversation" with Putin. Maybe this was partially due to the fact that the Russian leader has a black belt in judo and simply conversing with him seemed to be the safer option.
The term "shirtfront" became an everyday word during the summit. A Brisbane restaurant promoting the limited edition 'Big Bad Vlad' burger suggested that hungry patrons "shirtfront one [burger] today!"
Big bad Vlad burgers in #Brisbane available only during #G20 summit pic.twitter.com/kOGoQxA8KU

— Anna Ivanchenko (@Anna_Iva_RT) 15 ноября 2014
Now, less than one month after the summit wrapped up, the Canberra-based Australian National Dictionary Center has named it the word of the year.
Word of the year, apparently. My friend Matt was making these for #G20 for @avidreader4101. Demand: high #shirtfrontpic.twitter.com/braKeOxeau

— Big Strong Brute (@BigStrongBrute) 10 декабря 2014
"We selected shirtfront because we saw it really dominated the media this year," Amanda Laugesen, director of the center, said. "We're defining it at the moment as to challenge or confront a person."
But Australia may soon get a bit tired of the joke, as its popularity has spread among other global leaders.
When British Prime Minister David Cameron addressed Australia's parliament during the G20 summit, he joked that he thought Foreign Minister Julie Bishop had planned on "shirtfronting" him. Cameron meant that Bishop was, in fact, striding towards him to discuss plans to tackle Ebola.
#shirtfront#auspol ....now how's your trousers Mr Putin, Sir pic.twitter.com/rQekGeUWnT

— Comrade Thomas (@waynethomasking) 11 ноября 2014
Indian Prime Minister Narendra Modi also mentioned "shirtfronting "in his address to the Australian parliament during the summit.
You can share this story on social media: