'War crime': Amnesty Intl says IDF destroyed Gaza blocks as 'collective punishment'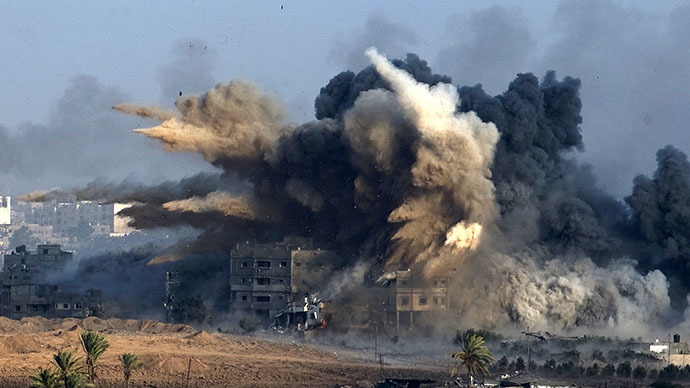 Human rights group Amnesty International accused Israel of the unjustified destruction of civilian buildings in Gaza during this summer's conflict, branding it a symbolic form of "collective punishment." Israel says the buildings served as Hamas bases.
The advocacy group has called for an international investigation of Israel's behavior during the incursion, in which over 2,100 Palestinians and 60 Israelis died. In its latest report, Amnesty particularly noted that in the last – relatively bloodless – days of the war, the Israel Defense Forces (IDF) deliberately bombed several large civilian constructions without any apparent necessity.
READ MORE: Israel levels high-rise buildings in Gaza: 'They housed Hamas op centers'
"While no one was killed during the destruction of the four landmark civilian buildings in the Gaza Strip during the four last days of the war, the attacks are of great significance because they are examples of what appears to have been deliberate destruction and targeting of civilian buildings and property on a large scale, carried out without military necessity," the group said, referring to three apartment blocks and one shopping center which were bombarded by Israeli shells between August 23-26, for allegedly harboring militants.
"The timing of these attacks and statements by Israeli officials suggest that these were instances of collective punishment, ones with long-term impact on the already perilous economic situation of Palestinian civilians in Gaza," Amnesty International said.

If Israel's intent is proven, "it would be a grave breach of the prohibition against such attacks in international humanitarian law (the laws of war), including the Fourth Geneva Convention, to which Israel is a state party, and therefore amount to a war crime."
RT spoke with officials from both the Israeli government and Amnesty International, and asked them for their side of the story.
Israel has refuted the contents of the report, saying it is Hamas – Gaza's leading political and military organization – which should be investigated, and that it purposefully concealed terrorist units in civilian buildings.
READ MORE: 'Amnesty are victims of Hamas propaganda' – Israeli FM spokesman
"We know for sure that those buildings were used for Hamas as military bases. Now, we have our sources. We cannot reveal our intelligence sources because we are compromising people there who face Hamas, who are trying to avoid the casualties within the civilian Palestinians," Alon Melchior, deputy spokesman for Israel's Foreign Affairs Ministry, told RT.

"Now, the question is why Hamas is using those civilian buildings as terrorist bases – that's what Amnesty should ask, should investigate why Hamas is using the Palestinian people as human shields," Melchior said.
READ MORE: Israel to get 3,000 smart bombs, part of US military aid – reports
Israel has rejected the testimonies of Gaza locals and Amnesty researchers.

"We know for a fact that all the evidence in the report is based on false evidence, no one can question those testimonies over there – no one can check their credibility. There is only one true evidence that we agree on: that no one was killed during those attacks that were checked," said Melchior.

"We think that Amnesty are victims of Hamas propaganda," the Israeli official claimed.
Amnesty International's Philip Luther, director of the Middle East and North Africa Program, responded to the allegations live on RT, calling them "absolutely nonsense."

"This report is based on meticulous research that has looked into these four airstrikes in particular...it didn't just take out those buildings, of course, it destroyed hundreds of homes and livelihoods. And the reality is that the evidence that we've gathered and that we've presented is detailed – and it is based not just on the facts on the ground, but on statements by Israeli military authorities and others at the time of the conflict," Luther told RT.

According to Luther, "scores of people were injured in neighboring buildings as a result of the attack" and had their homes wiped out, "and this for people who already have a precarious existence because of Israel's longstanding military blockade on the Gaza Strip."
READ MORE: Israel refuses cooperation with UN Gaza war probe, calls it 'one-sided'
"If Israel was serious about wanting to have the testimonies that we've gathered, question the research that we've gathered, it should start by allowing in the UN Commission of Inquiry that's been set up to look into allegations of war crimes during the conflict, into Gaza. It's refusing to allow them in, it's refusing to allow Amnesty International into Gaza, and it has done so since the beginning of the conflict," Luther stressed.
The rights group's official also drew attention to the fact that the latest report comes as part of Amnesty's series of reports on war crimes and human rights violations by both Israel and Palestinian radical groups, including Hamas. Luther said he believes that an International Criminal Court investigation into violations by both sides of the conflict is "absolutely essential."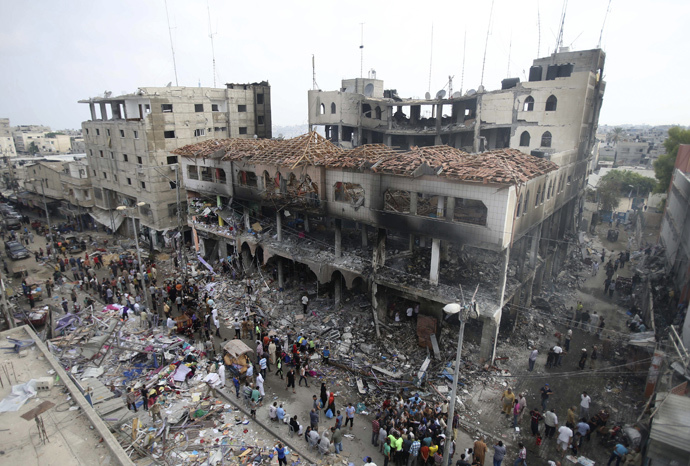 You can share this story on social media: