Israel levels high-rise buildings in Gaza: 'They housed Hamas op centers'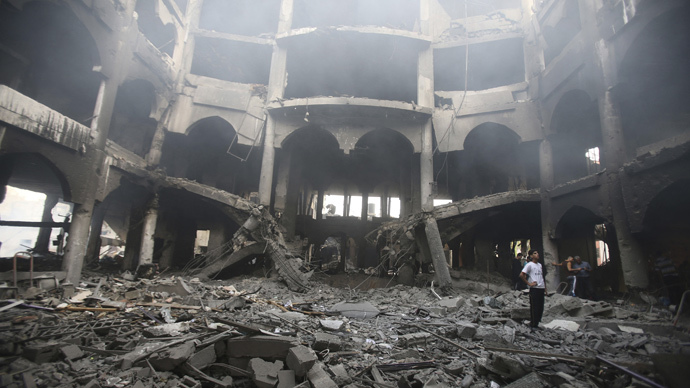 IDF air strikes have leveled two multi-story buildings in Gaza; both are said to have housed Hamas facilities. The new tactic of bringing down entire buildings has been tested amid a new escalation of tensions in the Israeli-Gaza conflict.
A seven-story office building in the Gaza Strip's southern town of Rafah was completely destroyed by an Israeli strike on Sunday morning, according to eyewitnesses. It's not yet clear if there were injured or dead in the attack

Another strike in the same city hit a two-story shopping center, wounding seven and badly damaging the building.

The Israeli military claim both the buildings housed facilities linked to Palestinian militants. One of the offices in the leveled seven-story Zourab building belonged to the Hamas-run interior ministry, AP reports.
The bombing of Rafah started within hours of an airstrike, which destroyed a residential 12-story block of apartments, also known as Zafer Tower, in Gaza City. 22 people were wounded in the attack, according to local health officials.
A spokeswoman for the Israeli military said the building was being used as a command center by Hamas militants.
Israeli media say the Hamas apartment was on the fourth floor of the high-rise building and the IDF would in the past have carried out a pinpoint strike targeting that particular apartment, while leaving the building standing.
The tactics have changed, reflected in the leaflets the IDF distributed over Gaza warning Palestinians their houses could be targeted, if they are used by Hamas.

"Every house from which militant activity is carried out, will be targeted. For your own safety, prevent terrorists from utilizing your property for terror agendas, and stay away from every site in which terrorist organizations are operating," the leaflet reads.
We've distributed leaflets over Gaza warning the residents to keep away from terrorist sites and activities. pic.twitter.com/kz9agz9TVV

— IDF (@IDFSpokesperson) August 23, 2014
The attacks on high-rise buildings started the following day, after Israeli Prime Minister Benjamin Netanyahu vowed harsh retribution against Hamas for a mortar round fired from Palestinian territory that killed an Israeli child.

Social media users have drawn parallels between the Israeli strikes on the multi-story building and the 9/11 tragedy.
a 9/11 is happening now as israel is targeting towers. Yet no one will call it that,because it's Palestinians who are dying.

— Lina ام ياسمين (@livefromgaza) August 23, 2014
IDF spokesperson Lt. Col. Peter Lerner found the comparison "outrageous."

"Did Bin Laden inform the people of the twin towers to evacuate?" he wrote on Twitter.

More than 17,000 homes have been destroyed or damaged beyond repair, making around 100,000 Palestinians homeless, since the war began on July 8, according to UN estimates. At least 2,103 Palestinians and 68 people on the Israeli side have been killed in the conflict.

Egypt called on Israel and the Palestinians on Saturday to halt hostilities and resume peace talks, but both sides kept up attacks.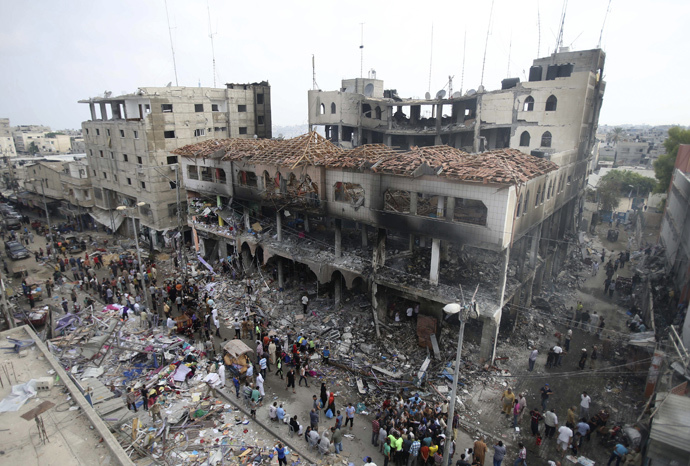 You can share this story on social media: