Daredevil roofers film GoPro video of climbing nuclear reactor's 150m cooling tower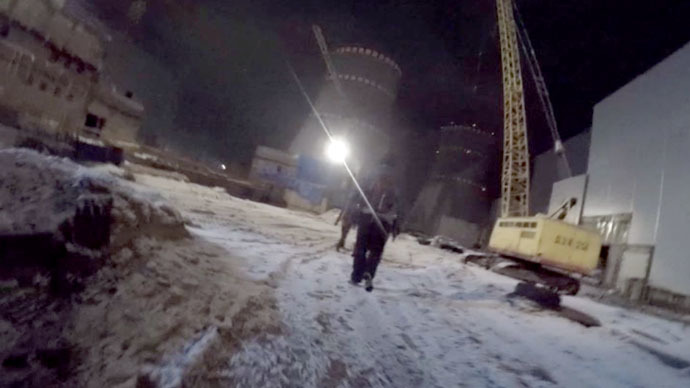 Five adrenaline junkies have climbed an unfinished reactor at a nuclear power plant and its 150-meter cooling tower on the outskirts of St Petersburg, capturing the whole process on a GoPro camera. They said they sneaked in through a "fence."
"Good night! I'm writing this from the top of the cooling tower of the Leningrad NPP-2 (Leningrad Nuclear Power Plant-2). Here's view on the reactor. Despite all the levels of security, the five of us are here," roofer Nikita Agapov wrote on his Instagram page.

Agapov and his St Pete gang of roofers posted pictures on social networks with a GoPro video from the nuclear power plant in the town of Sosnovy Bor outside St Petersburg.
They showed the 150-meter cooling tower, the electric power unit and the Leningrad NPP-2's reactor, which is expected to see the physical startup of its first unit in autumn 2015.
In an interview with the Fontanka news website, the roofers expressed the hope that their break-in will become "a good kick in the butt" for those responsible for the facility's security.
The checkpoint at the Leningrad NPP-2 construction site works properly, but "nobody is looking after the perimeter," they said.
"Just as no one paid any attention to a group of five people in civilian clothes," the roofers said.
The daredevils say they spent "more than five hours" at the nuclear power plant and left "unspotted."
Доброй ночи! Пишу вам с верхушки градирни ЛАЭС-2. Вид на реактор. Несмотря на все уровни безопасности - мы в количестве 5 человек здесь. На спуск! :)
They also told LifeNews they penetrated the construction site by "finding a gap in the fence and easily making their way through it."
The police have launched an inquiry into the illegal entry and the appearance of the photos online.
Earlier this year, Agapov and Co penetrated Pulkovo Airport in St Petersburg, taking selfies with planes on the runway and even climbing into the cockpit of a helicopter.
In 2011, a group of Moscow roofers made headlines after posting pictures from a research and production center on the outskirts of the Russian capital. The center is involved in the production of rocket engines for civilian and military purposes.
Following the incident, Russia's deputy PM in charge of the weapons industry, Dmitry Rogozin, said that penetration of classified facilities by civilians is unacceptable, promising "to close the mouse trap for both the mice and the sleepy cats."