Ukrainian 'roofer' says he painted star on Moscow's landmark skyscraper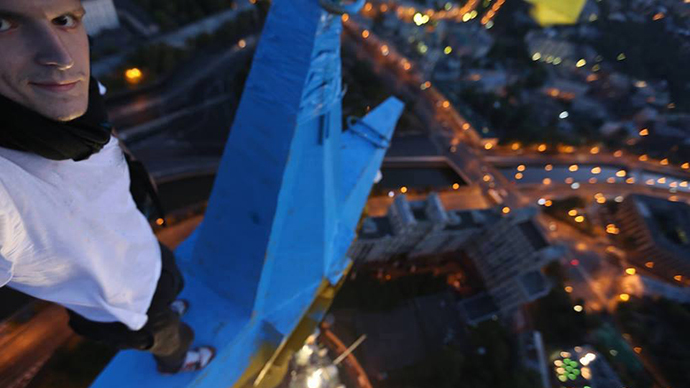 Ukrainian urban climber Grigory, famous online with the avatar Mustang Wanted, has confessed he painted the star on one of Moscow's iconic Stalin-era skyscrapers in the colors of the Ukrainian flag.
The man posted the confession on his accounts in social networks, including Facebook and Russian VKontakte, which mostly feature the climber's scaling achievements in various parts of the world. Mustang Wanted is an addict of extreme urban climbing, also known as "roofing", which is all about climbing high-rise buildings and performing stunts on them, mostly without safety equipment.

Extreme vertigo: 15 skywalker clips that will scare you to death (VIDEOS)

"I'm that person who in an outburst of sincere patriotic feelings climbed the roof of the high-rise Kotelnicheskaya Embankment Building and repainted the star on top of it in the colors of our dear Ukrainian flag, and then also raised a flag of independent Ukraine. I have photo and video evidence of that," the post reads.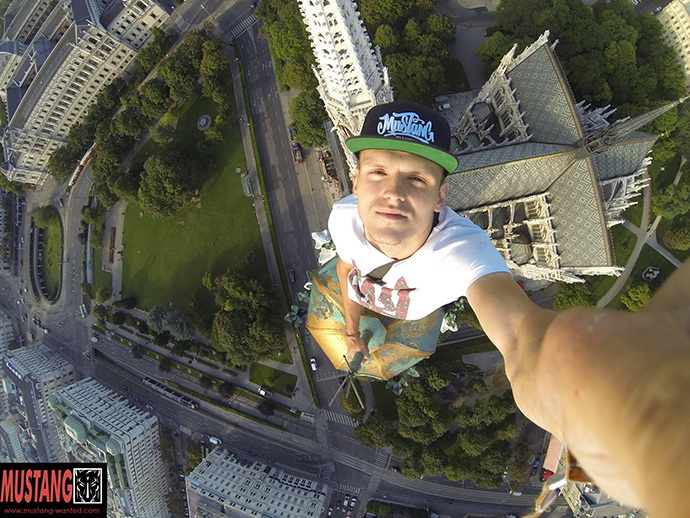 Grigory attached a selfie of himself with the painted star as proof of his words. He says painting the star was a long and tiresome process, which took him the whole night.

"I consider what I did an art performance and dedicate it to Ukraine's Independence Day," he wrote.

The climber and blogger said he had to make the confession for the sake of the four young Russian people currently under investigation and house arrest over the incident. They were detained next to the building carrying mountaineering gear on the day the star was painted.


The group – two men and two women – have denied guilt, explaining they were base-jumpers, climbing different sorts of high premises to jump from them using parachutes.

Police say they are looking into the online confession.

"Moscow police are checking the information, posted in one of the social networks by a person claiming his involvement in the vandalistic actions at the Kotelnicheskaya Embankment Building," the police press service told Itar-Tass.

Star Wars: Ukraine, Russia flags top Moscow's iconic Stalin skyscrapers

The top of the yellow star over the 176-meter-tall Kotelnicheskaya Embankment Building was painted blue on August 20, making the landmark resemble the yellow-blue Ukrainian national flag.

A Ukrainian flag was also set on top of the star. After several hours, a maintenance crew removed the flag from the skyscraper and restored the initial golden color of the star.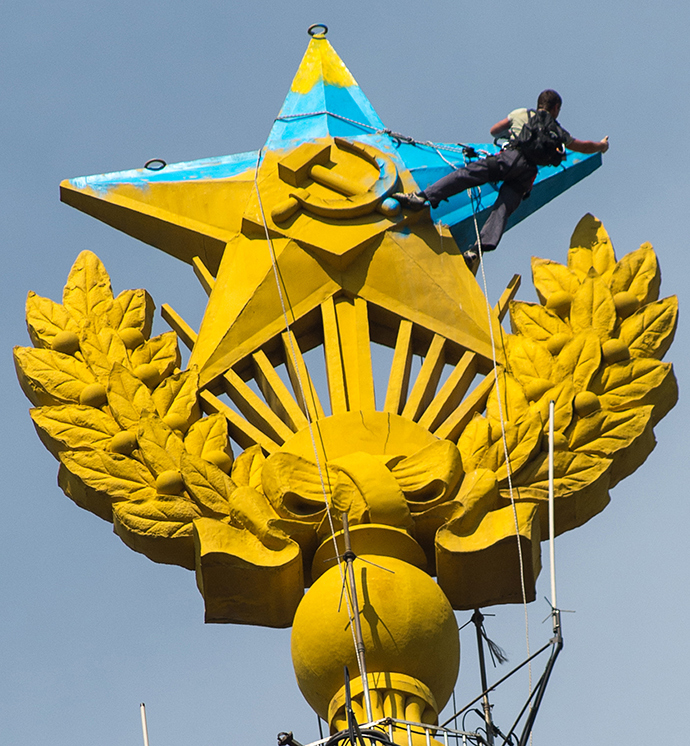 The Kotelnicheskaya Embankment Building is one of the seven high-rise buildings in Moscow (sometimes referred to as the Seven Sisters), built after WWII under Joseph Stalin's rule. The skyscrapers are among the Russian capital's major landmarks.