Chile police seize 6-foot-tall pot 'Christmas tree' in drug raid
Published time: 6 Dec, 2014 22:28
Edited time: 7 Dec, 2014 10:21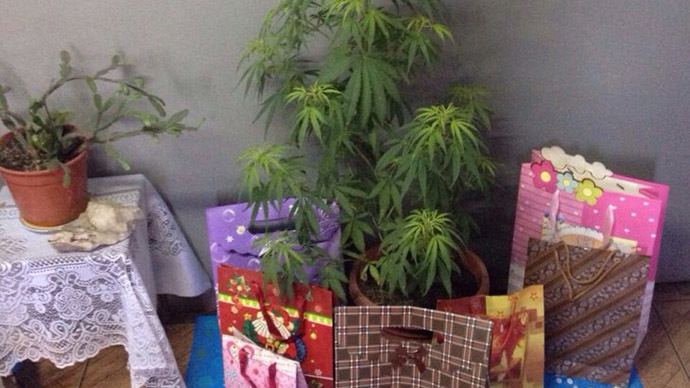 Police in Chile have arrested a 50 year-old woman on drug trafficking charges after a raid on her residence produced a tall marihuana tree that was decorated in the best Christmas spirit complete with presents at its base.
The police in San Bernardo have confirmed that the hostess, Angelica Navarro Pereira, kept 21 cannabis sativa plants just over 1.5 meters tall at home, the highest being 1.74 meters, plus 29 bags of marijuana bags badged for sale.
Police also seized 250,000 pesos ($4,000) of suspected criminal proceeds from drug trade.
To protect her treasure, the woman kept two homemade shotguns, consisting of two metal tubes each with its respective firing pins.
The investigation into Pereira's alleged illegal cultivation and sale began a month ago.
Pereira was transferred to the Court of Guarantee of San Bernardo, along with the evidence, where she will face drug trafficking charges.