Spanish theater swaps tickets for porno mags to beat VAT hike
Published time: 6 Dec, 2014 16:30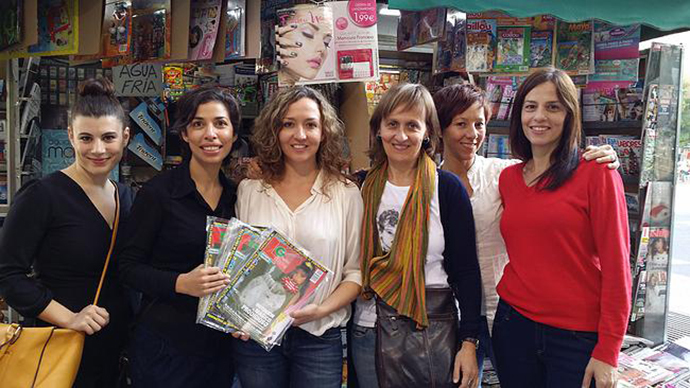 A theater in Madrid is using pornographic magazines to get more people to its shows. With VAT on ticket sales at 21 percent, the company is allowing people to buy a magazine instead of a ticket to gain entry.
At 4 percent, VAT on a porn mag is much less than on theater tickets. The all-women theater company behind the idea in Madrid, Primas de Riesgo (Risk Premium) may have been taking a chance with the move, but it seems it is a gamble that has paid off.
"People like to get involved in this campaign as they like to show dramatic events in a funny way. We want to send people an optimistic message that today's generation wants to change something and that Spain is a cultural power. Anyone can support our campaign by buying a porn magazine and visiting our show and in the end I think it will be fun," theater director Karina Garantiva told RT.
Garantiva says it is scandalous that so little VAT is put on porn, while so much is being slapped on the arts. She blames Spain's right-wing government for the policy.
For the last month, the group has sold old copies of the magazine Gente Libre (Free People), which date back to the 80s and 90s, for 16 euros. Each copy sold gives entry to a show.
Those behind the initiative say it has been a success, and others are following suit. A newspaper vendor said, "I benefit from selling magazines at a low tax rate, so I can see how they will benefit in exactly the same way."
50 Voces para un Don Juan.Teatro Marquina.Una velada para unirnos al calor de la solidaridad.#enfermedades-raras# pic.twitter.com/8Gmbn3WwTD

— Karina Garantivá (@karinagarantiva) December 1, 2014
A theatergoer said, "We want to see shows but we don't always have the money, but I definitely support them."Another told RT: "At least it's different. It's creative. I give them my full backing."
This is not the first time a Spanish theater has come up with a creative way to try and beat the VAT initiative. Just over two years ago, a Catalan theater decided to sell carrots instead of tickets, for those wanting to watch a play.
The 21 percent VAT bracket was implemented in July 2012 by Prime Minister Mariano Rajoy as the government looked to slash its budget deficit by 65 billion euros. This saw the main VAT bracket increase from 18 percent to 21 percent, despite a promise during the election campaig that the rates would not change.
The move led to mass protests around the country by citizens who were angry at the economic measures enforced, while a number of the demonstrations turned violent. In March, 29 protesters were arrested following clashes in Madrid, while 101 people were injured.