Poor take the fall in deepening Europe crisis
Published time: 28 Mar, 2014 15:20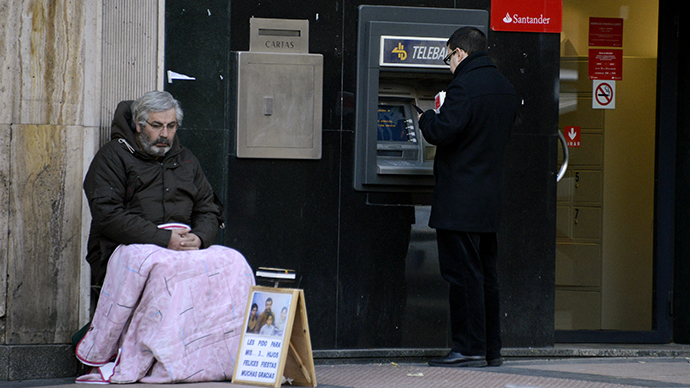 Europe's poor and children are bearing the brunt of harsh austerity measures as the eurozone crisis continues to deepen, a report compiled by the Catholic charity Caritas warns.
"We in Brussels keep hearing that the economic crisis is over," Thorfinnur Omarsson, a spokesman for Caritas Europa, said in Athens, where the Catholic charity released its report Thursday.
"These findings not only doubt that the crisis is over but show it is the poor who are paying for a crisis they did not cause."
The report, which studied the impact of the ongoing financial crisis specifically on Cyprus, Greece, Ireland, Italy, Portugal, Romania and Spain, painted a picture of an "unfair Europe" burdened by "disturbing" levels of poverty.
"Five years since the beginning of the crisis in 2008, there is little or no growth, there are ongoing massive increases in unemployment and millions of people are living in poverty," the 114-page report said.
In an increasingly stratified Europe, individuals and families alike are increasingly under stress as social risks are increasing while funding of social systems is being slashed.
The report notes how cuts to public services are "disproportionately" affecting lower income groups, while an inability to get access to healthcare is having an equally negative affect on people's health.
Child poverty has jumped from an average of 20 percent to 22 percent over the last three years, reaching over 30 percent in Ireland, Caritas general secretary Jorge Nuno Mayer said.
The report argues that governmental failings and high levels of public debt have taken the lion's share of attention, rather than the failings of the financial markets themselves. This has led to ineffectual attempts to save Europe through increasingly deeper budgetary cuts.
"Austerity measures have failed to solve problems and create growth," Mayer said, adding that "the European project and cohesion in our societies is at stake."
The report notes that in Greece, the epicenter of Europe's 2009 debt crisis, attempts to salvage the economy through austerity have failed to deliver a cure for the country's economic woes.
"On the contrary, the medicine that sought to cure the disease is killing the patient," the report said. The document notes how the crisis is destabilizing the already volatile political landscape, "with despair leading to support for extreme right-wing parties, who are nostalgic about fascist ideologies, a crisis that also has the potential to undermine all the institutions that Europe has worked hard to establish."
Even Cyprus, which had previously been considered economically robust, has joined entered the states taking on EU-IMF bailout programs with all-too predictable austerity measures.
"The impact of the crisis and the more recent austerity measures are being felt by Caritas personnel providing services on the ground [in Cyprus]. Since March 2013, boxes with food and household items have been distributed to many families. In 2013, the migrant section of Caritas was dealing with many cases on a daily basis, as they find that migrants and asylum seekers are especially affected," the report said.
Meanwhile, Myers warned that in Spain, it could take 20 years for the economy to recover to pre-crisis levels.
Caritas's organization in Spain reports that the number of households living in extreme poverty in the country rose to 1.5 million last year, from 900,000 before the crisis hit in 2007, AFP reports.
Across the seven countries studied, the number of people in extreme poverty nearly doubled to 5.1 million in mid-2013 from 2.8 million in mid-2007, it added, calling the rise "unprecedented."
And in Italy, a country which has struggled with its own balancing act reforms and budget cuts to avoid a troika bailout, Caritas saw a 25 percent rise in demand for charity services between 2011 and 2012.
The report notes that changes in aid in the form of redistribution of food surpluses produced under the EU's Common Agricultural Policy are also set to have an impact.
"Changes to the Food Aid system due at the end of 2013 mean that Caritas Italy is concerned that this will cause a social emergency involving more than 4 million poor people, something that needs to be addressed by activating a national fund for food aid."
And in Portugal, economic conditions will have forced more than 200,000 people to leave the country by mid-2014, said Eugenio Jose da Cruz Fonseca, chairman of the local branch of Caritas.
The report also mentions how youth unemployment in Spain and Greece – which stands at well over 50 percent – as well as in Portugal, have forced many to turn to charities for support. The report warns that an entire generation faces the prospect of endemic poverty.
"It is recognized that young people entering the labor market during these years are being hit most severely by the crisis and receive least protection," the report says.
"Youth unemployment is a serious problem that will have lasting impact for a generation of young people, with potential consequences for them, and indeed for European society more generally, stretching even to the prospect of their poverty in older age."