Kurdistan flows gets aid, elsewhere in Iraq 180,000 refugees are in dire need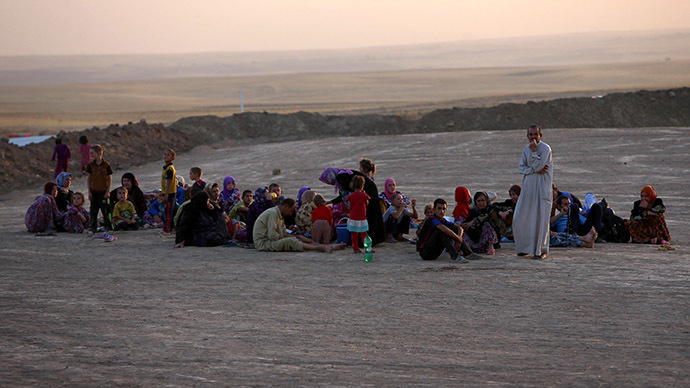 Over 180,000 Iraqis displaced by the ISIS offensive are in urgent need of aid in the city of Kirkuk, where they live in obscurity with little to no foreign help, Médecins Sans Frontières (MSF) warned.
Advances by militants from the Islamic State (IS), formerly known as ISIS, have turned into refugees several hundred thousand people in Iraq's Anbar Governorate since the start of the year. Fleeing for their lives, some have ended up in neighboring Kirkuk, where the live in decrepit, overcrowded shelters, MSF reported.
"We see too little international assistance; most aid comes from local organizations and is largely insufficient. We need international aid organizations to step up their efforts wherever possible," said Fabio Forgione, MSF head of mission.
So far MSF is the only international medical organization working with Kirkuk refugees, it says. Most of the foreign aid is going into Iraq's Kurdistan, the region receiving a lion's share of coverage due to its hands-on engagement with the IS onslaught. Other regions around the country – and Kirkuk in particular – are being neglected, the organization said.
"After fleeing terrible violence, families need basic, humanitarian aid to ease the hardships of their displacement. It is incumbent on the international community to provide it," Forgione stressed.
The lack of aid is taking its toll on people sheltered in Kirkuk, many of whom are staying in unfinished buildings, discussed farms and other places scarcely suited for living. Some are beginning to contract "urinary and chest infections, skin diseases, and anemia" partly because of the lack of nutrition as food and water are scarce.
Last month, UN under-secretary general for humanitarian affairs, Valerie Amos said that throughout Iraq, over 5.2 million people are in need of assistance, with over 100,000 Iraqis registering as refugees in neighboring countries. More than two million people have been displaced by an Islamic State offensive in Iraq this year.
Those refugees that make it alive to Kirkuk, the MSF says, are being mainly helped by the local community.
"When I came to Kirkuk I felt safer, and now I can sleep,"a woman who fled bombings in Beiji told the NGO. "But no one came to us except for the governor (of Kirkuk) and the Red Crescent. We didn't see anyone else. We made requests, asking for mattresses, stoves, oil, carpets. No one gave us anything."
The number of refugees in Kirkuk has more than doubled since July, without a comparable increase in humanitarian assistance, Forgione told Reuters.
"We might end up in an extremely deteriorating situation which for us is a real concern," he said.
Local government is trying to offer some relief to some 50,000 displaced Iraqi families by relocating some to a new camp yet without basic services like water and sanitation their labor might prove to be insufficient.