'National independence under attack': Hungary's PM answers McCain's remarks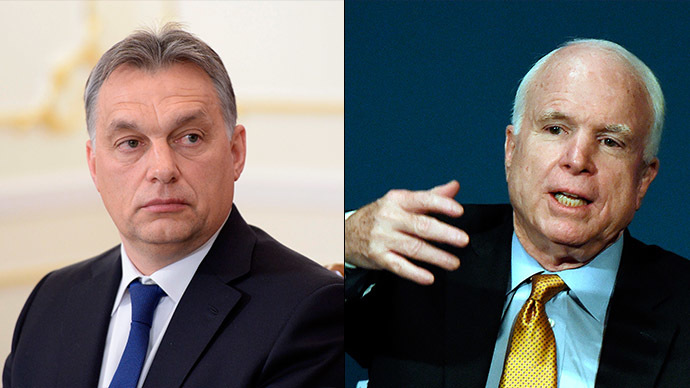 Hungary's national sovereignty had come under US attack said the country's Prime Minister Viktor Orban after Senator John McCain earlier criticized Budapest's relations with Moscow and called the top official a "neo-fascist dictator."
"Hungary's national independence is under attack here," said Orban speaking on state Kossuth Radio on Friday. The prime minister added that McCain's statements were "extreme manifestations" which only "reflect on the person who said them".
McCain's comments on Tuesday came as a response to President Barack Obama's appointment of Hollywood producer Colleen Bell as the new US ambassador to Budapest. During a highly charged speech at the US Senate, McCain said that he is "not against political appointees... I understand how the game is played, but ... [Hungary] ... is on the verge of ceding its sovereignty to a neo-fascist dictator getting in bed with Vladimir Putin, and we're going to send the producer of 'The Bold and The Beautiful' as the ambassador."
Following McCain's remarks, Hungary's Foreign Ministry summoned the US charge d'affaires, Andre Goodfriend for an explanation of the senator's statement.
READ MORE: Hungary fuming after McCain calls PM Orban 'neo-fascist dictator'
In turn Orban said that "the country's independence in terms of energy, finances and trade relations is unappealing to those who profited from Hungary's dependence prior to 2010.″
He added that the "the file on the South Stream gas pipeline is now closed" but Hungary's interest has remained "to have a gas pipeline that arrives in Hungary avoiding Ukraine".
In the interview he pointed out that he "would not be a viceroy in Hungary commissioned by some foreign state".
Washington has been exerting heavy pressure on Hungary over the country's decision to support South Stream gas pipeline and "fearing Moscow's rapprochement with Budapest," admitted Orban last month.
Meanwhile, relations between Russia and Hungary were "entangled in geopolitical and military and security policy issues" he said as cited by AFP.
The deal that would see Russia's Rosatom expand Hungary's nuclear power has also come under criticism from the US, the PM added. Under the €10 billion deal between the two countries, Rosatom will build a 2,000 megawatt addition to Hungary's state-owned nuclear power plant MVM Paksi Atomeromu.
Hungary is highly dependent on Russia's energy and Moscow remains Budapest's largest trade partner outside of the EU - in 2013 exports were worth $3.4 billion.
Nevertheless Orban has said that Hungary seeks to lower dependence on external energy resources and the expansion of the nuclear plant was the "only possible means" to do it. "We don't want to get close to anyone, and we don't intend to move away from anybody," Orban said.
You can share this story on social media: