Fighter jet crashes near school outside Moscow (VIDEO)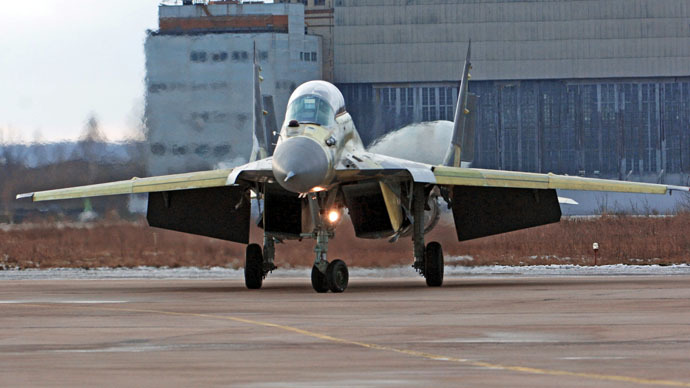 A MIG-29 fighter jet crashed during a test flight in a residential area near a village school just outside Moscow. Both pilots ejected and were taken to hospital.
The jet crashed near the village of Chemodurovo, southeast of Moscow, during a test flight as the crew was returning to the Flight Testing Institute's airbase in Ramenskoye, local officials told Tass news agency.
Emergencies Services chief Radik Asulbaev, flying in a helicopter to the crash site, transported one of the seriously injured pilots to the Sklifosovsky hospital in Moscow, officials told RIA Novosti. The other pilot was later transported to a local hospital.
No casualties on the ground were reported. The cause of the incident is as yet uncertain.
"Something happened and the pilots were compelled to abandon the jet," said Pavel Vlassov, head of the Mikhail Gromov Flight Test Institute.
Под Москвой рядом со школой упал МиГ-29 Подробно: http://t.co/k4gUE5VooBpic.twitter.com/6bH2OA812G

— SobiNews.Com (@Sobiratel_net) December 4, 2014
The MiG's black box recorders were found at the crash site and are due to be analyzed by experts from the 13th research institute of Russia's Defense Ministry, a spokesman for the ministry said.

The dual-seat MiG-29KUB fighter jet which crashed near Moscow was one of the two naval aviation jets based in Zhukovsky at RAC MiG's advanced test flight center.