Yemeni al-Qaeda threatens execution of US journalist in 3 days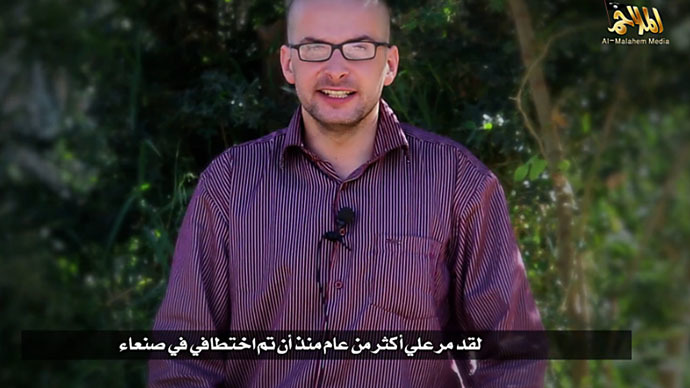 Al-Qaeda's Yemeni wing, Al Qaeda on the Arabic Peninsula (AQAP), has threatened in a new video to kill a British-born American photojournalist in three days if the US does not meet the jihadist group's demands.
In the 3-minute video, a copy of which has been obtained by the SITE Intelligence Group that tracks Islamist terrorist groups, a man identifies himself as Luke Somers, a 33-year-old photojournalist for the Yemen Times who was kidnapped more than a year ago in the Yemeni capital, Sanaa.

"Basically, I'm looking for any help that can get me out of this situation," Somers says. "I'm certain that my life is in danger. So as I sit here now, I ask if anything can be done, please let it be done. Thank you very much."

Somers could be one of the hostages US Special Operations commandos and Yemeni troops were trying to rescue a week ago. Eight hostages were then freed, but five others, including a British citizen and an American journalist, were moved elsewhere by the jihadists ahead of the operation.

READ MORE: Al-Qaeda escapes US Special Forces raid in Yemen with British, American hostages

The video with Somers also features a message by AQAP's leader, Nasser bin Ali Al-Ansi, who says the hostage will be killed in three days "after the issuance of this statement" if Washington fails to meet the group's demands.
An upcoming video from AQAP obtained by SITE shows American hostage Luke Somers http://t.co/Zm27d614tbpic.twitter.com/sv7Z49VLtq

— SITE Intel Group (@siteintelgroup) December 4, 2014
"We warn Obama and the American government of the consequences of proceeding ahead in any other foolish action," Al-Ansi says.

The demands were not specified in the video.

Kidnappings of foreigners have lately been on the rise in Yemen, home to Al-Qaeda's most active branch, according to Washington.

To counter AQAP, the US has been training Yemen's military on-the-ground and launching drone attacks on the militants.

Journalists have been particularly targeted by the extremists of the Islamic State group, which Al-Qaeda disavowed earlier this year for its brutal tactics, among other things.

US journalists James Foley and Steven Sotloff were beheaded by Islamic State earlier this year, while British journalist John Cantile remains an ISIS hostage.