US teacher killing: Abu Dhabi hunts 'Reem Island Ghost' after shopping mall stabbing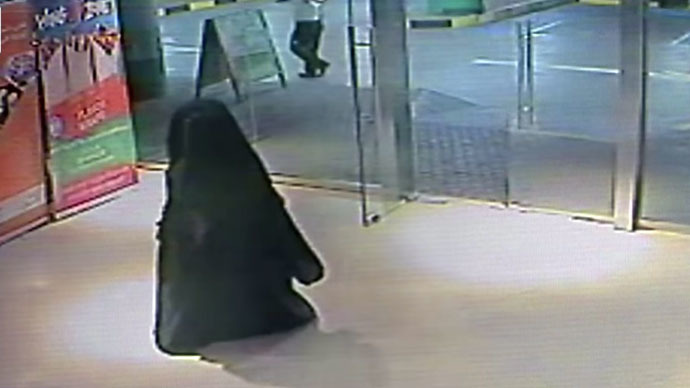 The suspect in the stabbing death of an American kindergarten teacher in an Abu Dhabi shopping mall has been dubbed the "Reem Island ghost." Ibolya Ryan was attacked in a ladies' toilet by an assailant wearing a black robe and full-face veil.
The Abu Dhabi Interior Ministry has urged the public to come forward with information related to the killing of Ryan, a 47-year-old divorced mother of three, which took place in a high-end mall in the capital Monday, NBC reported.

The attacker's entry and exit from the mall's bathroom was caught on surveillance CCTV footage released by authorities, leaving open the possibility that the bulky figure dressed head-to-toe in a traditional black robe (abaya, traditionally worn by local Emirati women) could have been a man in disguise.
The Ministry of Interior urged the public to call 8002626 to provide any information related to the case http://t.co/6NxPYHn6vM

— MOI_UAE (@AbuDhabiPolice) December 4, 2014

"Investigations are still under way to identify the suspect's identity and gender. Witnesses reported that the culprit was fully covered wearing an abaya, black gloves and face veil," police said in a statement Tuesday.

Ryan's 11-year-old twin boys lived with her in Abu Dhabi, while her 15-year-old daughter attends a boarding school in Europe, where the children's father lives.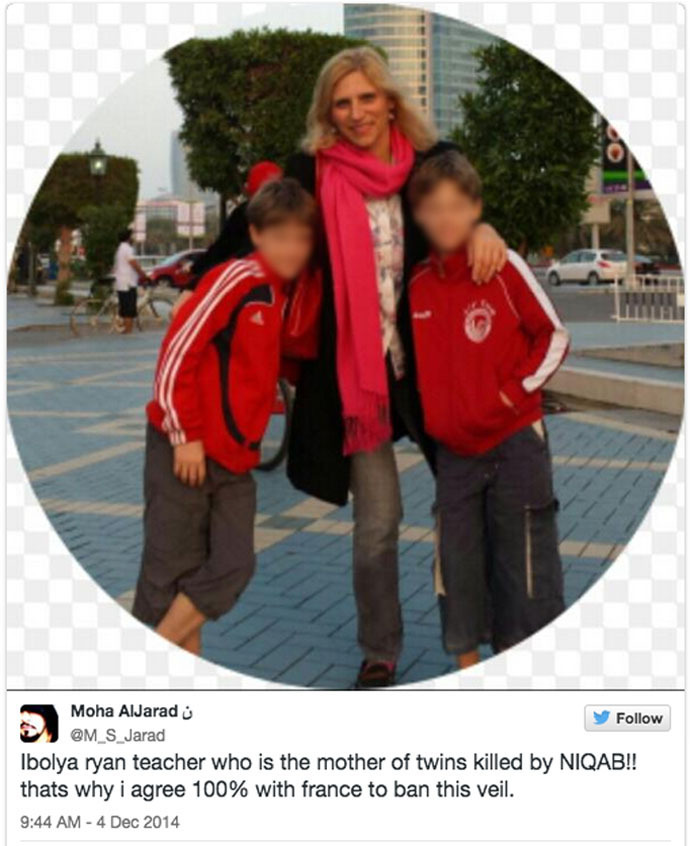 Police said they have recovered the murder weapon, a "sharp tool" akin to a kitchen knife.

On the surveillance footage, the robed suspect is seen stepping off an elevator, briefly interacting with a security guard, picking up a newspaper, and walking toward the restroom. According to the time stamp on the video, around 90 minutes later the suspected attacker runs back into the lobby where bystanders scatter. The assailant shakes off one woman who stands in the way trying to stop the suspect, and takes an elevator to an underground parking lot before escaping. The tape ends with disturbing footage of a bloody trail of footprints leading from one of the restroom stalls.

"The injured woman was immediately rushed to Sheikh Khalifa Medical City where she succumbed to the injuries she sustained in the attack," Abu Dhabi police said in a statement.
American teacher murdered in Abu Dhabi shopping mall http://t.co/fsRNN95uV9#abc15pic.twitter.com/Z4FQxQ297u

— ABC15 Arizona (@abc15) December 4, 2014

Ryan's online profile for Footprints Recruiting says she is an ethnic Hungarian, born and raised in Romania, who taught in four countries over the past 15 years. She was trained as a teacher in the US and Europe.

"I wanted to experience the Arab world and experience their culture and daily life," Ryan wrote in a section that asked what made her teaching abroad experience unique. She said she was highly interested in "other languages," and was eager to gain "some proficiency in Arabic."

"I am working in a very traditional neighborhood and it is very unique to learn and understand their culture."

Ryan, called Ibi by her friends, writes about her life in Abu Dhabi: "I would say be positive, open minded, flexible and take every challenge as a learning experience. Also be thankful that you are able to have the experience of working abroad; I think at the end it makes you not just learn about others but also about yourself."

Ryan worked as a special education teacher in Denver from 1997 to 2001 and for a wireless company for over three years before returning to teaching in Hungary, Austria and Abu Dhabi.
READ MORE: Amnesty slams UAE as 'deeply repressive state beneath facade of glamour'

According to her LinkedIn profile, she started work as a teacher in Abu Dhabi in September 2013.

Police said Ryan's 11-year-old twins are being cared for by authorities until their father arrives from abroad. The US Embassy in Abu Dhabi said it was "working with all the appropriate authorities to seek further information" about the killing.

In late October, the US Embassy in the United Arab Emirates posted a statement saying that an anonymous post on a jihadist web forum had called for attacks on American teachers in the region, but that it had no credible evidence of any such plots. "US citizens residing in or visiting the UAE should remain vigilant regarding their personal security and be alert to local security developments," the statement said.
You can share this story on social media: