Gravy train: Retired EU president Van Rompuy gets a whopping $600k+ payoff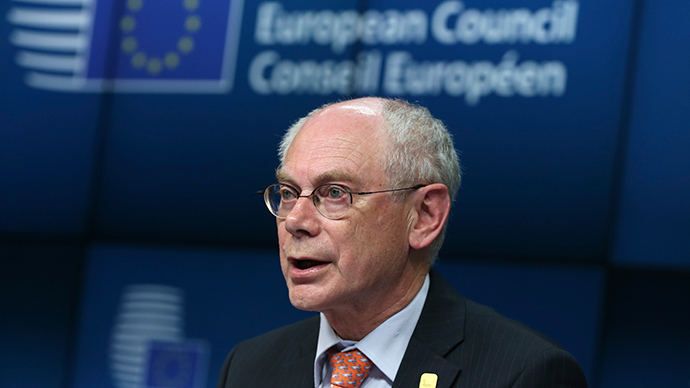 Herman van Rompuy, the former president of the European Council, is to get over £400,000 (over $620,000) of EU taxpayers' money over the course of three years after his retirement, the UK's Independent newspaper revealed.
Van Rompuy, 67, earlier was reported to receive 55 percent of his basic salary - £133,723 ($210,290) a year until December 2017, a special payment of £21,000 ($33,000) – and an annual pension of £52,000 ($81,700) for life.
However, an EU official later explained to The Independent that Van Rompuy would not receive his pension until he stopped receiving the three-year allowance. He added also, that there would be no one-off payment amounting to £21,000. The total sum of allowance will be £401,169 (over $620,000).
The tax rate imposed on it will be at the European Community tax rate, and not the rate in Rompuy's homeland, Belgium, where the rate is higher.
According to the official, all kinds of payments are determined by common decision of countries that are members of the EU.
Van Rompuy, a former Belgian Prime minister, was elected president of the European Council in 2009, and reelected in 2012. During his time in office, top EU officials presided over deep cuts in public spending to pay for bank bailouts, massive rises in unemployment and soaring poverty across the continent.
The money is presented as "transitional allowance" which is "the price for the total independence" of former high ranking officials. Rompuy's generous "allowance" is a part of a package paid to former officials of the European Council, with a total bill of £30 million.
The EU's office employment policy requires ex-officials to "ask permission for any job they would like to do for 18 months after leaving" to avoid conflicts of interest. Van Rompuy said he was going to leave politics and indulge his hobby of writing Haiku poetry – and to give lectures in the College of Europe in Bruges.
Van Rompuy's successor as European Council president, former Polish Prime Minister Donald Tusk, was offered a salary five times higher than his pay in Warsaw, the Daily Telegraph reports.
You can share this story on social media: