Football fan killed in clashes between Spanish 'ultras' in Madrid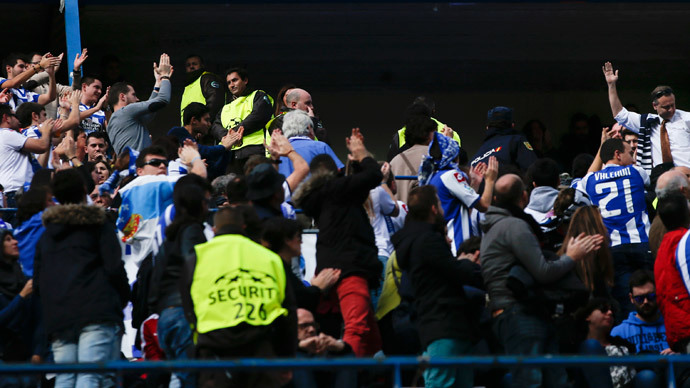 A fan has died in clashes between Spain's radical groups ahead of a football match in Madrid. The man suffered from head injuries and hypothermia after being thrown into a river. Eleven others were injured and dozens arrested following the violence.
The incident took place ahead of Atletico Madrid's home match against Deportivo de La Coruna at Vicente Calderon stadium in Madrid. The violence erupted between some 200 'ultras' – ultra-fanatical followers - supporting the rival teams, a video which emerged on the internet shows.
A 43-year-old, identified by Spanish La Voz de Galicia newspaper as Francisco José Romero Taboada, was reportedly supporting Galician Deportivo. During the clashes he was hit several time in the head and then thrown into the Manzanares River.
When he was rescued by firefighters he was still alive, but in a critical condition, suffering from hypothermia and head injuries. Another video posted online shows the moment he was rescued from the river.
"[Romero Taboada] died a few minutes ago. He did not survive the cardiac arrest and died in the intensive care unit," a spokeswoman for Madrid's Hospital Clinic told AFP, adding that 11 people, including a police officer, were injured in the clashes.
Police arrested at least 24 ultras supporting Deportivo and Atletico, as well as Madrid-based clubs Rayo Vallecano and Alcorcon, National Police Corps reported on their Twitter feed.
According to Spanish news agency EFE, police continue to investigate the accident, but they haven't yet identified a person or persons responsible for the attack against Taboada.
Duelo y HORROR de verdaderos aficionados al fútbol: 24 detenidos de Riazor Blues, Frente Atlético, Bukaneros y Alkor Hooligans #VIOLENCIANO

— Policía Nacional (@policia) November 30, 2014
On Monday, Spanish Minister for Culture, Education and Sport Jose Ignacio Wert called a meeting with the anti-violence commission.
"The incidents we have seen today are the type of things we never want to see in sport," he said.
The presidents of Atletico and Deportivo, as well as Spain's professional soccer league (LFP), slammed the violence which happened ahead of the match.
"We cannot expand on the details because we don't know them and they are under investigation," said Atletico President Enrique Cerezo, "I repeat that neither Atletico Madrid nor Deportivo have anything to do with these radical groups that have their own histories and stories."
Deportivo President Tino Fernandez added that the club will provide support for the family of the deceased fan.
"The clubs need to act so that these things don't happen anymore. Our position is well-known and we have to lament what has happened," he added.
Despite the tragic event, the match between Atletico de and Deportivo was not canceled, with Atletic winning 2–0.