All in flares: Sarajevo fans set football field alight, clash with police (VIDEO)
Published time: 3 Nov, 2014 01:21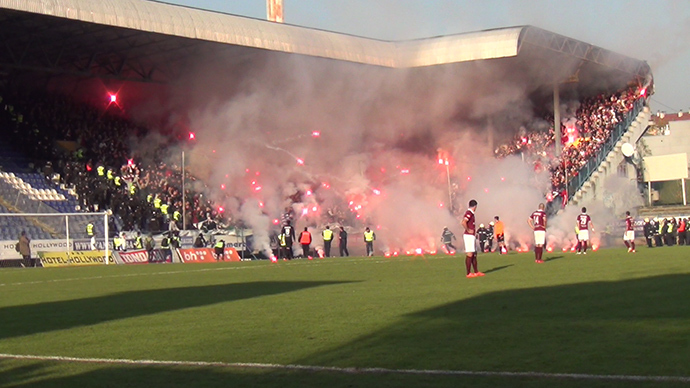 A football match in Bosnia and Herzegovina's capital Sarajevo turned violent as fans bombarded players with a barrage of flares and clashed with police. At least 15 people were injured in the brawl – but the interrupted game then continued.
The city's FK Zeljeznicar stadium hosted a football match between FK Zeljeznicar and FK Sarajevo on Sunday.
The game began with FK Sarajevo scoring its first goal at the 13th minute of the game – to which its supporters responded by lighting flares in celebration.
However, after FK Zeljeznicar tied the score at the 22nd minute, disgruntled fans of the home team began to throw the burning flares on the field, targeting players.
Thick smoke and fire spread from the flares, covering the stadium.
But the riled up fans of FK Sarajevo did not stop there; they exchanged punches with dozens of baton-wielding police officers, who attempted to push the flare-throwing rioters out of the stadium.
At least 15 fans were injured in clashes and were transported to a hospital.
At the 33rd minute players had to be escorted to their locker rooms, as the violence got out of hand. However, no arrests were made.
After the situation stabilized, the match resumed and the game ended with FK Sarajevo winning 2 to 1.