Spectacular 'Wishing Well' star cluster displayed on video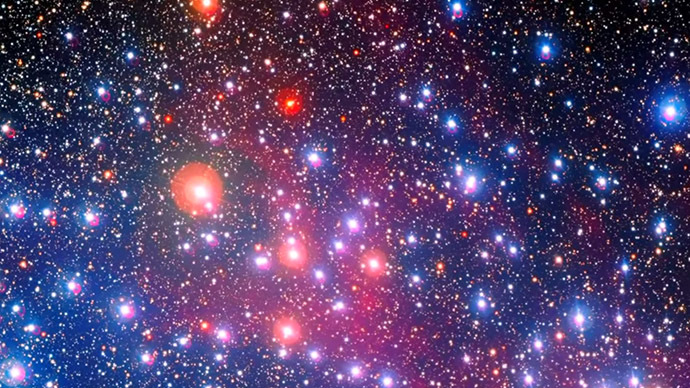 Star cluster NGC 3532 – known as the Wishing Well Cluster – is some 1,300 light-years from the Sun, located in the Carina constellation. Now you can zoom in and see it via stunning footage from the European Southern Observatory's telescope in Chile.
READ MORE: Supermassive black holes could be part of an interstellar cosmic web
The image, which allows viewers to see part of the constellation up close, was captured by the Wide Field Imager instrument at ESO's La Silla Observatory in the Chilean Atacama Desert. Combined with a wider hi-resolution view of the surrounding Milky Way, it reveals the amazing number and variety of stars present in just a tiny segment of the observable universe.
The individual stars in the constellation resemble colorful, shining coins in a wishing well. There are some 300 of them in total, and the constellation is 300 million years old.

The cluster has stars that are both blue and orange in appearance. The blue ones have moderate masses, and the orange and red ones have already burned off their hydrogen and are subsequently much heavier. There are even some red giants which glow with an orangey hue.
The star cluster NGC 3590 in the constellation of Carina pic.twitter.com/difGy3Crzj

— ★El Último Mohicano© (@toucheggs) August 20, 2014
The cluster earned its 'Wishing Well' name because it resembles the bottom of a well scattered with coins. However, it also goes by Caldwell 91, or the Football Cluster. It was first discovered by astronomer Nicolas Louis de Lacaille in 1752.
READ MORE: Cosmic Chaos: Turbulence prevents cluster galaxies from forming stars (PHOTO)
The star group was described as a binary-rich cluster by John Herschel in the 1830s, which made it somewhat unusual. Binary stars move as a pair around a common center of gravity.
My recent wide field photo of the Carina constellation and surroundings: #astrophotographyhttps://t.co/kvogNheH2b

— AstroTanja (@AstroTanja) May 12, 2014
Because the constellation is in a very busy part of the Milky Way, there are also several fainter stars that can be seen both within and outside the cluster, contributing to its beauty.
READ MORE: Black hole at Milky Way center may be emitting mysterious neutrinos, NASA says
You can share this story on social media: