Hong Kong police pepper spray protesters as hundreds try to surround govt office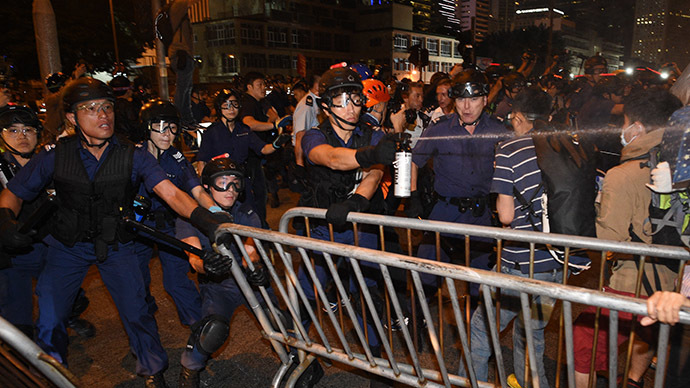 Hong Kong police have used pepper spray to prevent hundreds of protesters from encircling the government headquarters, as China's special administrative region continues to be gripped by demonstrations which began two months ago.
Demonstrators chanting "Surround government headquarters" and "Open the road," as well as "I want true democracy," made their way into the city's government neighborhood of Admiralty, where scuffles with police occurred.
Protesters with wooden shields and metal barricades charged police as officers warned them to retreat.
Many in the crowd carried umbrellas, which have become a symbol of Hong Kong's pro-democracy push, due to providing protection from pepper spray. Others had surgical masks, hard hats, goggles, and construction-style eye protectors.
READ MORE:Umbrella Men: Hong Kong's #OccupyCentral goes viral (PHOTOS)
When protesters failed to obey the order to leave, police used pepper spray to disperse the crowd. At least five protesters were detained by security forces in the clashes, AP reports.
The demonstrators blocked traffic on a main road, but failed to surround the office of chief executive Leung Chun-Ying, as they were eventually stopped by police barricades. However, the protesters said they will continue to occupy the road leading to the government headquarters until Monday, to prevent Leung and other Hong Kong officials from getting to work.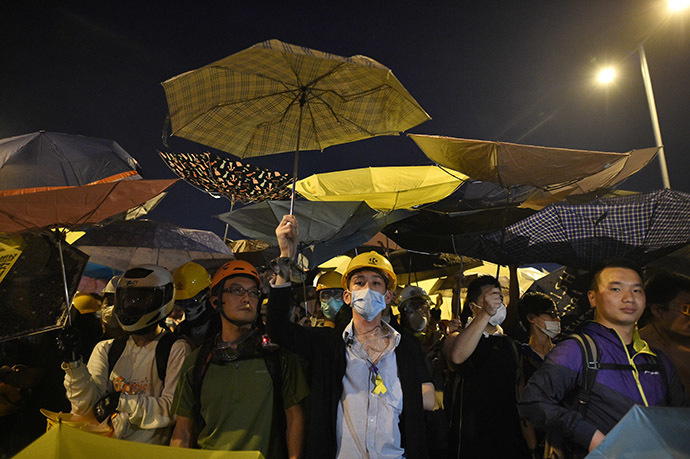 "I urge everyone to stay here until the morning to keep surrounding the government headquarters. Let's stop the government from functioning tomorrow," a protester shouted into a megaphone, according to Reuters.
The demonstrators began storming the government district after student groups – which have been the driving force of the disobedience – urged their supporters to intensify their actions.
"Surround the government headquarters," Nathan Law, one of the leaders of the Hong Kong Federation of Students, told the crowd. "Participate if you have the equipment, if you can take the risk. We do not encourage you to attack police officers."
The protesters are demanding a free election of Hong Kong's leadership in 2017 instead of a vote between pre-screened candidates, which Beijing has said it will allow.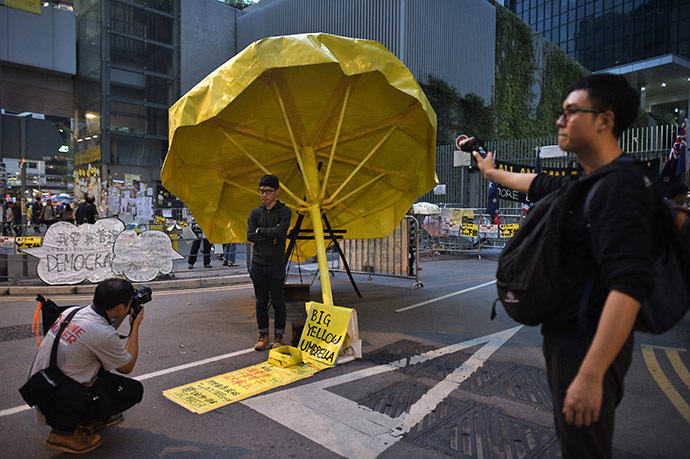 The events in Admiralty follow four nights of clashes in the city's working class district of Mong Kok, after police cleared a protest site in the area on Wednesday.
Law enforcement officers arrested 28 people during the unrest in Mong Kok on Friday and Saturday night.
The Hong Kong rallies, which began in late September, drew more than 100,000 people to the streets at their peak.
However, Beijing's unwillingness to meet the demands of the demonstrators saw support for the movement dwindle. At present, only several hundred are continuing to protest in the former British colony.
You can share this story on social media: