Pope brands ISIS violence in Syria, Iraq 'grave sin against God'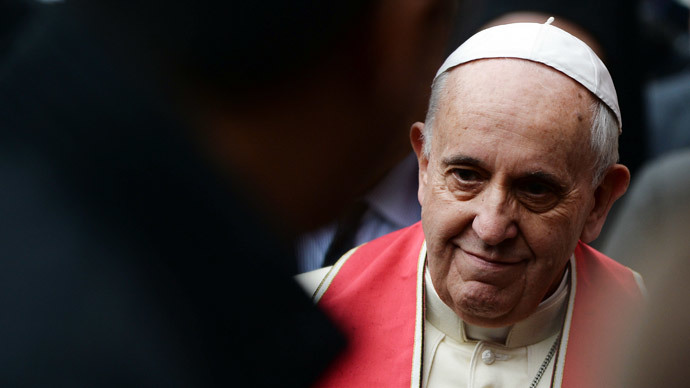 Pope Francis called the violence inflicted by Islamic State militants in Iraq and Syria a "profoundly grave sin against God." He also urged constructive dialogue with Muslims based on "mutual respect and friendship."
"Taking away the peace of a people, committing every act of violence, especially when directed against the weakest and defenseless, is a profoundly grave sin against God, since it means showing contempt for the image of God which is in man," said Francis during his liturgy at the Patriarchal Church of St. George in Istanbul.
The Pope was speaking on the last day of his weekend trip to Turkey, which has already provided asylum for about 2 million Syrian refugees. On Saturday, the Pope condemned the "barbaric violence" by IS jihadists aimed against Christians, Yazidis and other religious groups.
"As religious leaders, we are obliged to denounce all violations against human dignity and human rights," Francis told Mehmet Gormez, Turkey's top cleric and other religious officials who gathered at the Religious Affairs Directorate.
READ MORE: Pope Francis says 'unjust aggressor' ISIS must be stopped, rejects new Iraq 'conquest'
In August, up to 30,000 minority Christian and Yazidi people fled to Mount Sinjar in Iraq to seek safe-haven. Thousands of Christians were also displaced in the Kurdish city of Erbil.On Sunday, Francis said that today some neighboring countries are scarred by "an inhumane and brutal war."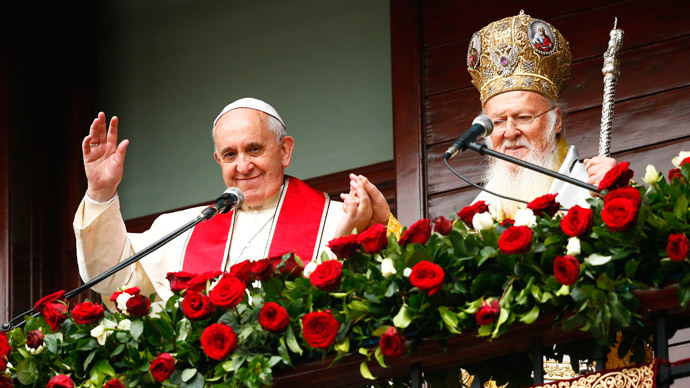 "The cry of the victims of conflict urges us to move with haste along the path of reconciliation and communion between Catholics and Orthodox," he said.
In a separate joint service, Francis and Patriarch Bartholomew I of Constantinople urged an end to the persecution of Christians in Syria and Iraq.
"The terrible situation of Christians and all those who are suffering in the Middle East calls not only for our constant prayer, but also for an appropriate response on the part of the international community," the spiritual leaders wrote.
They also called for "constructive dialogue" with Islam "based on mutual respect and friendship."
The UN condemned the Islamic State, saying that they have committed a "staggering array" of systematic human rights abuses – including mass executions, abducting women, and using girls as sex slaves. The group released videos of the beheading two US journalists and three US and UK aid workers.
However, Syrian Foreign Minister Walid Muallem told Beirut-based Al Mayadeen TV that the Islamic State has not been weakened since US-led airstrikes began in September, adding that nothing will change until Turkey increases security at its borders.
You can share this story on social media: