Hunger-striking asylum seekers climb trees to evade German police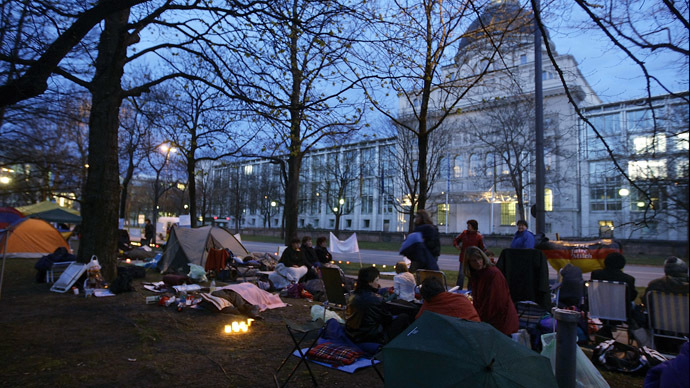 Several refugees in central Munich climbed trees to avoid police dispersal of a protest. Despite frigid temperatures, they held a five-day outdoor hunger strike to create awareness of their housing problems and their legal status.
About 30 refugees began to refuse food on Saturday. Later, they also stopped taking fluids, fighting for their right to stay in Germany and protesting against shared accommodation.
On Wednesday, the asylum seekers held a press conference.
"We're mad," said the group's spokesman Adeel A. "We see no positive signals from the politicians."
Noch nicht beendet - einige Flüchtlinge harren auf Bäumen aus #Münchenhttp://t.co/6E4jsTVoQgpic.twitter.com/9xkG67v89w

— Gudrun Riedl (@galoki) November 27, 2014
Later that day, dozens of police and firefighters arrived at the camp at the city gate Sendlinger Tor in central Munich to clear it out, local media reported.
"Give us our rights!" shouted the protesters – six people, who fled up two trees after the police dispersal. "This protest will continue!"
Threats to commit suicide were even heard from atop one of the trees.
#Hungerstreik beendet - Polizei löst Flüchtlingscamp in #München auf | VIDEO http://t.co/TWr9TyXCabpic.twitter.com/r0qUHjTQEg

— B5_Rundschau (@B5_Rundschau) November 27, 2014
The protesters were eventually persuaded to down from the trees Thursday morning by the authorities, who decided to put an end to the lingering hunger strike, as it posed a health threat, physicians warned the city administration.
For nearly an hour, Mayor Dieter Reiter and Bavaria's Social Minister Emilia Müller spoke to the refugees.
"They have achieved their goal – to initiate the discussion," Reiter told dpa news agency.
The refugees were satisfied with the discussion with the Mayor, they said.
"It was incredibly cold," one of them told dpa. "We were so tired, but we were all strong enough to endure and fight for our rights."
#Flüchtlinge sind von den Bäumen. OB #Reiter und Sozialministerin #Müller verhandeln. #Münchenhttp://t.co/QrXhGk1inupic.twitter.com/cw5sCOKaOd

— Abendzeitung (@Abendzeitung) November 27, 2014
Most of the asylum seekers were taken to hospital due to their weak condition and exhaustion, with temperatures dropping to +3 degrees Celsius overnight.
"The rapid escalation of the situation came for all of us as a surprise," Wilfried Blume-Beyerle, head of the KVR, the local visa registration office, told Süddeutsche Zeitung newspaper.
This year, Germany has received the largest number of asylum seekers in the world. Over 65,000 people applied for asylum between January and June, and roughly 127,000 people sought refuge, posing a major new challenge, Deutsche Welle reported.
You can share this story on social media: