French black justice minister under fire after slamming Ferguson police brutality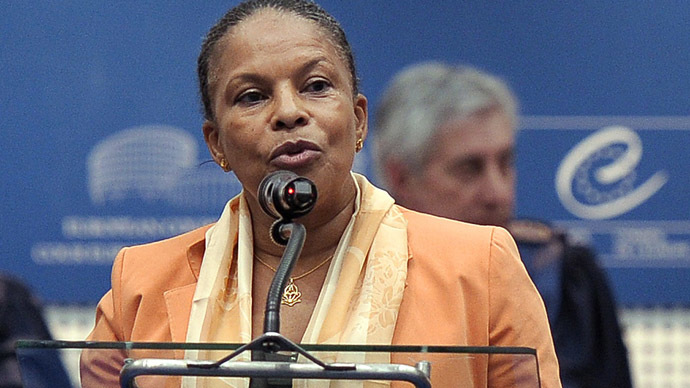 The French justice minister has been critical of US police violence after the Ferguson decision. She tweeted Bob Marley's lyric "Kill them before they grow" referring to teenagers shot down by law enforcers.
Justice Minister Christiane Taubira tweeted in French, saying "Michael Brown, racial profiling, social exclusion, territorial segregation, cultural marginalization, guns, fear, fatal cocktail!"
Then, she published a tweet in English.
How old was #Mickael Brown ? 18. #TrayvonMartin ? 17. #TamirRice? 12. How old next? 12 month? 'Kill them before they grow' Bob Marley ChT

— Christiane Taubira (@ChTaubira) November 25, 2014
Taubira later explained to France Info radio that she had expressed solidarity "in an extremely painful situation."
"I am not making a value judgment on United States institutions [but] when the feeling of frustration is so strong, so deep, so lasting and massive, you have to ask yourself about the trust in these institutions," said the minister.
"One realizes this only happens to the same people, African American kids. So there is the problem of a certain number of clichés, portrayals, prejudices which can create terrible reflexes," she added.
French Government spokesman Stephane Le Foll said, referring to the situation, that "one shouldn't comment about what's going on in the US" as the country "has its own rules and procedures."
He added that everyone should "turn their thumb 10 times" before tweeting, an expression in French that roughly means holding one's tongue before speaking.
Taubira, who took office in 2012, also came under fire from political opponents over her comments.
The right-wing mayor of the city of Nice criticized Taubira for thinking it "appropriate to judge the American justice system" and said the fact that she remains the French justice minister made him "ashamed for my country."
Taubira has been the subject of prejudice and racism scandals for some time: earlier this year, ex-candidate for municipal elections, Anne-Sophie Leclere, known for her far-right leanings, received a nine-month prison sentence and a hefty fine after publishing a photo of Taubira with a monkey.
"I prefer to see her swinging in a tree than to see her in government," Leclere said.
Last year, the right-wing French magazine, Minute, published a cover story bearing the title "Taubira Finds Her Banana."