'For science's sake': Japan insists on whaling despite world condemnation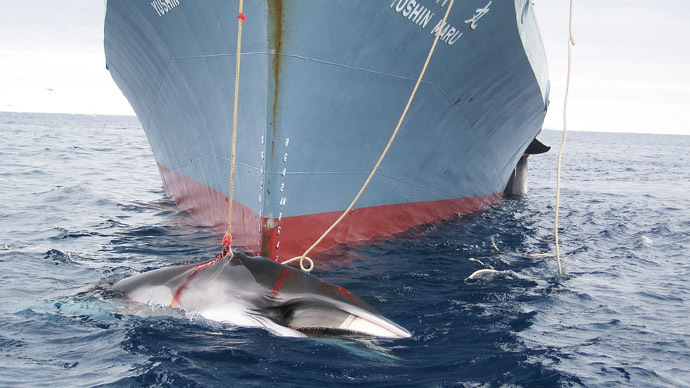 Japan has long defended its right to whaling, saying it's purely "for the sake of science," not for business. However, after cutting whaling quotas by two-thirds, Japan announced plans to resume whaling in the Antarctic in late 2015.
Last week, Tokyo agreed to cut whaling quotas by two-thirds, amid criticism that the hunts are unprofitable and sponsored by Japanese taxpayers. Japan's commissioner to the International Whaling Commission, Joji Morishita, said the new proposal is Tokyo's latest effort to pursue sustainable whaling according to scientific principles. Japan wants to take 333 minke whales instead of 900.
Japanese whalers will employ more non-lethal methods, including sighting surveys and biopsy sampling of skin tissue, while the participation of foreign scientists will be encouraged.
"The whaling issue is seen as a symbol of a larger issue sometimes in Japan... You might have heard the word 'eco-imperialism'," Morishita told a news conference, hinting at Australia's campaign against whaling.
"When you go out and ask ordinary Japanese about the whaling issue, they're going to say 'I don't eat whale meat, however I don't like the idea of beef-eating people or pork-eating people saying to Japanese, stop eating whales."
Morishita said Japan is making an effort trying to meet anti-whaling nations halfway.
"We are happy to talk about conservation or recovery of depleting species or endangered species ... we are happy to talk about non-lethal methods as long as 'sustainable utilisation' is also on the table for discussion," he said.
Japan killed 251 minke whales during the 2014 Antarctic hunt and 103 the previous year, according to data from Japan's fisheries agency. In the Northwest Pacific, 132 whales were killed in 2013, and 92 off the Japanese coast.
Each year about 300,000 whales, dolphins and porpoises die in fishing nets. Eating whale, however, happens to be part of Japan's food culture. Morishita said international disapproval of whaling could be compared to... a ban on the wearing of kimonos.
A moratorium against commercial whaling came into force in 1986, under the International Whaling Commission's (IWC), as whale populations plummeted toward collapse after decades of industrial-scale whaling.
Since then, Japan has used a provision in the whaling convention that allows killing whales "for purposes of scientific research." Japan began whaling for 'scientific research' in 1987, insisting that most whale species are not endangered.
In March, the International Court of Justice ruled that Japan must stop whaling in Antarctica, saying that Tokyo had produced insufficient scientific data to justify the killing of whales for research. Tokyo canceled its Antarctic hunt, but carried out a smaller version of the hunt in the Northern Pacific in the summer.
"Modern research techniques make killing whales in the name of science obsolete," Aimee Leslie of the World Wildlife Fund said at the International Whaling Commission meeting in September.
"The whaling commission is long overdue to adopt reforms that will protect whales from so-called scientific hunts, which are, in reality, a cover for the harvesting of whale meat."
She urged the commission to implement change, in order to put an end to commercial hunts that are "disguised as scientific research."