Freak cricket fatality: 25yo Aussie athlete dies after being hit by ball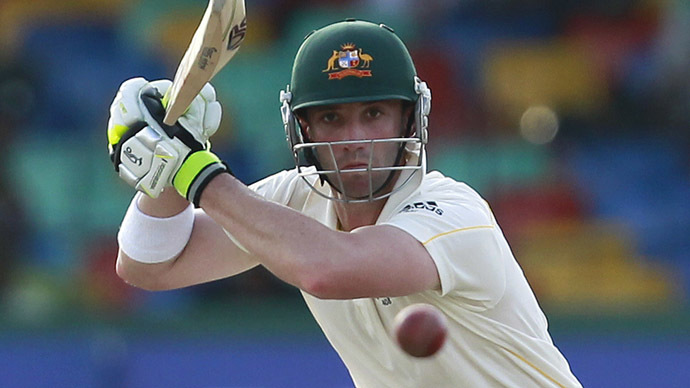 Australian cricketer Phillip Hughes has died in hospital three days before his 26th birthday. He never regained consciousness after a bouncer – a short-pitched, high-finishing delivery - struck him on the back of head during a Tuesday match in Sydney.
Footage of the young champion collapsing face-first on to the pitch after being struck on the back of his head made spectators' blood run cold. Hughes was wearing a helmet, playing in a Sheffield Shield match – this highest level of domestic competition - at the Sydney Cricket Ground (SCG), but the fatal ball happened to hit a gap behind his ear at the base of his skull. The bowler was New South Welshman Sean Abbott.
Young men are not meant to die as Phillip Hughes did. Nor to bear the burden now laid upon Sean Abbott. How infinitely sad.

— Mike Carlton (@MikeCarlton01) November 27, 2014


Although not unheard of, deaths during cricket matches are extremely rare. Batsmen have just half a second to react to a delivery of 140kph, which is not uncommon at first-class level. Helmets have been an integral part of batsmen's kits only since the 1970s.
Phillip Hughes' sad death is a reminder to all sports persons to be doubly beware of the dangers of their respective fields.

— Syed Talat Hussain (@TalatHussain12) November 27, 2014


The batsman from Macksville, in New South Wales, had been in hospital in an induced coma since the tragic accident on Tuesday afternoon. A surgeon at St Vincent's Hospital in Sydney said Philip Hughes had suffered "catastrophic head injuries." Doctors removed part of his skull hoping to relieve pressure on his brain, but his condition didn't improve. He died from a cerebral hemorrhage.

"He was not in pain before he passed and was surrounded by his family and close friends," Australian team doctor Peter Brukner said in a statement.

NSW Ambulance released conflicting reports about the time it took to reach Hughes at the SCG.

Ground officials said they had called for an ambulance just six minutes after Hughes collapsed, not 14 minutes as initially reported. The fact that it took 23 minutes for a NSW Ambulance to arrive to treat Hughes when each minute was vital has raised eyebrows. State Health Minister Jillian Skinner has demanded an explanation from NSW Ambulance officials.

Social media reaction to Hughes' death was overwhelming.
Phillip Hughes. A warrior's death in a modern day battlefield. So sad, a true hero, always. R.I.P little fella xo

— Alex Williamson (@AlexWilliamson8) November 27, 2014
Such sad news..... RIP Phillip Hughes pic.twitter.com/osxqQz0oVz

— Manchester United (@OldTraffordReds) November 27, 2014
The tragedy has touched millions of Australians, Prime Minister Tony Abbott said.
The loss of Phillip Hughes is heartbreaking for our country. We grieve for a man who gave his all to the sport he loved. JG

— Julia Gillard (@JuliaGillard) November 27, 2014
Horrible news..terribly saddening..too young n too soon..RIP phillip hughes..life can b so unfair n unpredictable..feel awful

— ameesha patel (@ameesha_patel) November 27, 2014


"Phillip Hughes was a young man living out his dreams. For a young life to be cut short playing our national game seems a shocking aberration," the PM said.

Hughes made his Test debut when he was just 20-years-old. The left-handed batsman played 26 Test matches for Australia and made over 1,500 runs. He made an incredible impact on his first tour, to South Africa, but had been inconsistent at test level thereafter. Recent adjustments to technique had seen a turn in the batsman's fortunes, becoming the first Australian to make a one-day international century in his first match in January 2013.
Can't comprehend it. Shaking. Our deepest condolences to Phillip Hughes's family and friends. #RIPPhillipHughes

— Jason Gillespie (@YCCCDizzy) November 27, 2014


Australian cricket captain Michael Clarke couldn't hold back tears when reading a statement from Hughes' family at a news conference on Thursday.
Lovely Phillip Hughes tribute from a teammate/mate. RT @KWRichardson23: pic.twitter.com/6eP3CaPNu7

— Jesse Hogan (@Jesse_Hogan) November 27, 2014


"We're devastated by the loss of our much-loved son and brother, Phillip," he said.

"It's been a very difficult few days, we appreciate all the support we have received from family, friends, players, Cricket Australia and the general public.

"Cricket was Phillip's life, and we as a family shared that love of the game with him," Clarke read.