Using terrorists for regime change is unacceptable - Lavrov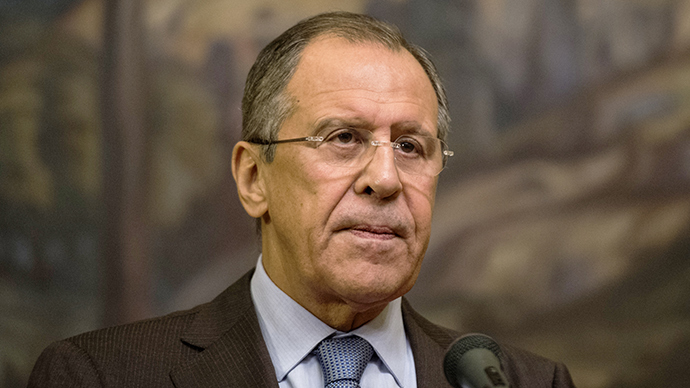 Moscow condemns efforts to overthrow Syria's political regime using terrorist groups in the region, Russian Foreign Minister Sergey Lavrov said.
"Russia condemns the use of extremist groups in efforts to change the regime [in Syria]," Lavrov said, at a news conference on Wednesday in Sochi, after meeting his Syrian counterpart Walid Muallem.
The foreign minister called the US refusal to compromise with Syrian authorities "openly ideology-driven," saying that Syria's nuclear disarmament confirms the country's cooperation internationally.
Follow RT's LIVE UPDATES on anti-ISIS coalition bombing terrorist positions in Iraq and Syria
Saying the fight against terrorism should be conducted without "double standards," the minister said strikes on the Islamic State forces without approval from Damascus violated international laws.
"In relation to this, questions to the US-led coalition arise, about who perform strikes on Islamic State without agreement with Damascus," said Lavrov.
READ MORE: Obama's Syria strategy review focuses on ISIS, Assad govt – report
Russia will keep advising Syria and other countries under terrorist threat on their military efficiency, Lavrov added, saying the fight against growing extremist forces in the Middle East is the international community's top priority.
Moscow has also asked the EU and UN to address the issue of terrorists selling oil from the occupied regions. Lavrov said that information regarding terrorists stealing oil from territories in Syria and Iraq continues to surface, and Russia is unimpressed with UN investigations into the matter.
The minister also criticized the EU decision to suspend its embargo on buying oil from Libya, saying there is still a region in the oil producing country controlled by terrorists.
In tune with Lavrov, Russian UN envoy Vitaly Churkin said in an address to the UN Security Council that putting all the blame on Damascus means "giving freedom to terrorists."
He expressed regret that some members of the UNSC have blocked at an early stage the work on Russia's proposal statement about the dangers connected with the use of chemical weapons by terrorists in Syria and Iraq.
READ MORE: ISIS sells stolen Kirkuk oil at $20 per barrel - Iraq Finance Ministry
Russia will develop its relations and contacts with Syria and its leader Bashar Assad, Syrian Foreign Minister Walid Muallem said after meeting Russia's President Vladimir Putin and Foreign Minister Lavrov.
The Syrian diplomat said that Putin confirmed Russia's intentions to cooperate with the country, particularly in the fight against terrorism.
You can share this story on social media: