Russian film festival kicks off in 35 Polish cities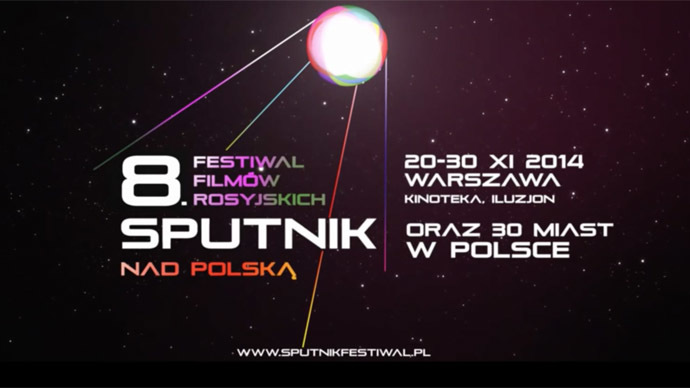 The festival of Russian cinema "Sputnik over Poland" is starting in 35 Polish cities. It's the second biggest film event in the country, and is being held for the 8th time – despite all political complications between the two countries.
The reward for the organizers who decided not to cancel the festival, was the sold-out screening of the award-winning "The Postman's White Nights" by Andrey Konchalovsky at the "Illuzion" cinema in Warsaw.
50 Russian filmmakers are coming to Warsaw to take part in the event, which welcomes around 70 thousand viewers yearly, the festival's director Małgorzata Szlagowska-Skulska said in an interview for the Rossiyskaya Gazeta media outlet.

The number of participating cities has diminished, but it's only due to financial issues, not political stumbling blocks, Szlagowska-Skulska said.

"I don't feel offended that the Polish sponsors haven't supported us – it's clear that they want to stay out of trouble, they are trying to be cautious. Russian companies in Poland also don't support us. <…> The Russian Ministry of Culture covers the expenses from their side: visas, film copies, insurances, tickets…"
Kolejny festiwal filmowy w tym roku - Sputnik nad Polską #sputnik vol 8 pic.twitter.com/hHhPSrf0xc

— Pearljam6 (@Pearljam6MM) November 23, 2014
The audience's interest seems to grow by the year, though.

"The number of fans on social network is growing. I'm getting messages that people are looking forward to "Sputnik," she said.

"You know, I'm involved in many meetings and a lot of communication, and of course there would be people who'd like 'Sputnik' not to be held. But I am and I will be organizing this festival not for politicians. I'm doing it for people who like Russian cinema," Szlagowska-Skulska added.

Polish Senate's speaker Bogdan Borusewicz was present at the opening ceremony, and said that the cancellation of the Russia-Poland cross-cultural year was a "a huge mistake" in an interview to Gazeta Wyborcza.

The event will continue until March.