'Nuclear reaction': French Polynesia to demand nearly $1bn from Paris over tests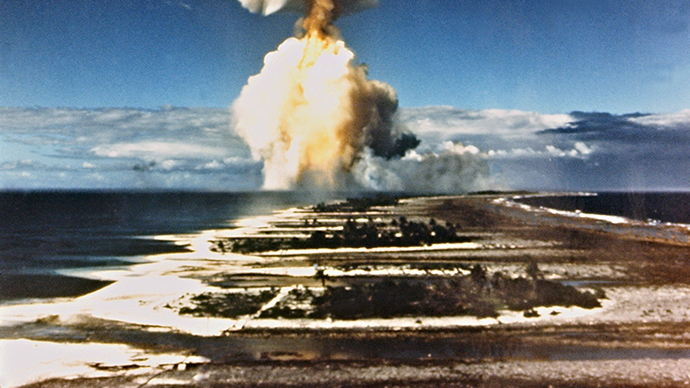 In an unprecedented move, French Polynesia, an overseas territory governed by France, is to ask Paris for nearly $1 billion in compensation for damage caused by nuclear weapons tests carried out by France in the South Pacific between 1966 and 1996.
The Assembly of French Polynesia has prepared a demand for $930 million (754,2 million euros) over "major pollution" caused by the 193 tests carried out by France for 30 years, La Dépêche de Tahiti reported. On top of this, the proposed resolution seeks an additional $132 million for the continued occupation of the Fangataufa and Mururoa atolls, used for nuclear testing.

The conservative Tahoera'a Huiraatira party committee has been acting independently of Polynesian President Edouard Fritch, who said he was "sorry" for the motion "written without consulting him," local press reported.

Meanwhile, the text of the resolution, set for approval by the Assembly, highlights a "very poor situation of the atolls," and a clean-up "impossible in the current state of scientific knowledge," Tahiti Infos reported. They write that French Polynesia has been "too long sidelined" from decisions on "waste conservation and monitoring modes whatever their nature as well as the rehabilitation options of the atolls."

On 24 August 1968, France conducted its first multi-stage thermonuclear test at Fangataufa atoll in the South Pacific Ocean, the so-called 'Canopus' test. With a 2.6 megaton yield, its explosive power was 200 times that of the Hiroshima bomb, according to the Comprehensive Nuclear-Test-Ban Treaty Organization (CTBTO).

France began its last series of nuclear tests in the South Pacific in 1995, breaking a three-year moratorium, provoking international protests and the boycott of French goods. It conducted its final nuclear test in January 1996 and then permanently dismantled its nuclear test sites. Later in that year, France signed the Comprehensive Nuclear-Test-Ban Treaty (CTBT).

In 1996, in the wake of the nuclear testing, a $150 million annual payment was granted to French Polynesia, a territory of over 100 islands and atolls with its own government.

France, together with China, is not party to the 1963 Partial Test Ban Treaty, which bans nuclear explosions in the atmosphere, under water and outer space but not underground.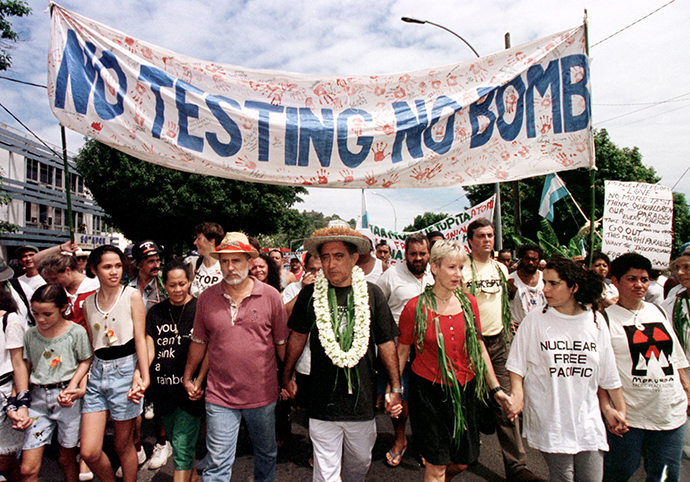 Last year it came to light that French nuclear tests carried out in the South Pacific had proved to be far more toxic than previously thought. According to declassified documents, seen by Le Parisien, plutonium fallout covered a much broader area than Paris had initially admitted, with Tahiti allegedly exposed to 500 times the maximum accepted levels of radiation.

According to the CTBTO, a study conducted between 2002 and 2005 of thyroid cancer sufferers in Tahiti, who had been diagnosed between 1984 and 2002, established a "significant statistical relationship" between cancer rates and exposure to radioactive fallout from French nuclear tests. Another survey carried out by an official French medical research body, Inserm, in 2006, also detected an increase in thyroid cancer among people who had been living within some 1,300 km of the nuclear tests conducted on the Polynesian atolls between 1969 and 1996.

In 2010, France pledged that veterans and survivors would be elegible for compensation, noting that this process would take time.
You can share this story on social media: