UN: 1 in 3 human trafficking victims a child, crime goes mostly unpunished
Published time: 25 Nov, 2014 10:25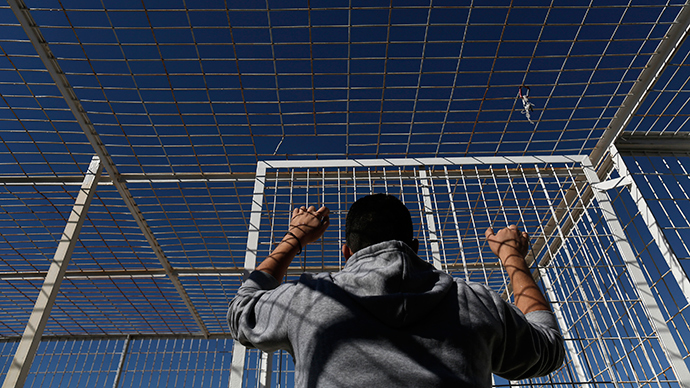 The number of children among human trafficking victims has increased from one in five to one in three over the last decade, according to a newly-released UN report. It also says the number of convictions for the crime is "extremely low."
In its latest report, released on Monday, the United Nations Office on Drugs and Crime (UNODC) says the child trafficking figure is particularly high in Africa and the Middle East, where it represents two-thirds of all human trafficking cases.

The watchdog acknowledges its estimates are based on a tip-of-the-iceberg official numbers, but says the figures can still give an idea of the scale of the problem.

"Unfortunately, the report shows there is no place in the world where children, women and men are safe from human trafficking," said UNODC Executive Director Yury Fedotov.
Latest report on #humantrafficking: children 1/3 of known victims, 5% incr. from last period - http://t.co/ZVth4mUmsBhttp://t.co/mLpRlEykgZ

— UNODC (@UNODC) November 24, 2014
Children forcibly recruited as soldiers
Child soldiering has widely been recorded as a form of trafficking in areas of ongoing armed conflicts.

"Most of the cases are reported from countries in Africa, where the different armed groups operating in Central and West Africa have been forcibly recruiting children to use them as combatants for decades," UNODC says.

The watchdog cites 2014 UNICEF figures that at least 6,000 children have been recruited by armed groups in the Central African Republic.
Latest report on #humantrafficking: UNODC chief: "no place safe from trafficking in persons" - http://t.co/ZVth4mUmsBhttp://t.co/uG2NSOJkiy

— UNODC (@UNODC) November 24, 2014
"In the Democratic Republic of the Congo, the United Nations Organization Stabilization Mission documented the recruitment of 996 children over a 20-month period in 2012-2013," the report says. "Victims are not only Congolese, but also children from neighboring countries as these armed groups are mobile and operate across the entire Central African region."

Child soldiering has also been documented across the Middle East and South America.
Syrians increasingly vulnerable
Armed conflicts are on broadly boosting human trafficking, with those fleeing war zones becoming easy prey for recruiters.

Syria has been singled out in the report as a vivid example.

"According to the information collected for this report, during the period 2011-2013, eight countries in the world report having detected Syrian victims, while victims from this country were very rarely detected before the beginning of the Syrian turmoil in 2011."
One-third of traffickers are female
UNODC records an "exceptionally high" number of women convicted for human trafficking, according to Kristiina Kangaspunta, chief of the UNODC's Global Report on Trafficking in Persons Unit.

"Given that many human trafficking investigations are based on victims' testimonies, these low-ranking female traffickers are most likely to be identified and convicted, while the men at the top of the chain are rarely seen or known by the victims," Kangaspunta told Reuters.
Latest report on #humantrafficking: girls 2/3 of child victims; 70% total victims are female - http://t.co/ZVth4mUmsBhttp://t.co/UU7Y6vAFq6

— UNODC (@UNODC) November 24, 2014
Almost 30 percent of convicted traffickers are women, the report says. For other types of crime the number of female convicts is two or three times lower.

While the majority of human trafficking victims – 53 percent - are subjected to sexual exploitation, the number of those trafficked for forced labor has been increasing over the years and currently stands at 40 percent.

The International Labour Organization (ILO) has recently estimated the illicit profits of forced labor to be $150 billion a year.
'Impunity prevails'
Earlier this month anti-slavery campaign group Walk Free estimated that nearly 36 million people across the globe were involved in some form of slavery.

READ MORE: 'Big business': Modern slavery sees up to 36mn people subjugated worldwide
Report shows human trafficking remains far too common, w/ far too few consequences for the perpetrators

— Yury Fedotov (@YuryFedotov) November 24, 2014
The reason behind the huge number of people engaged in forced labor could be that human trafficking is a sort of crime where "impunity prevails," according to the UNODC.

The group says 15 percent of the 128 countries covered in its report did not record a single conviction for human trafficking, while 40 percent of the countries only reported 10 or more annual convictions each.