London cab drivers enlist private detectives in Uber taxi wars
Published time: 24 Nov, 2014 22:11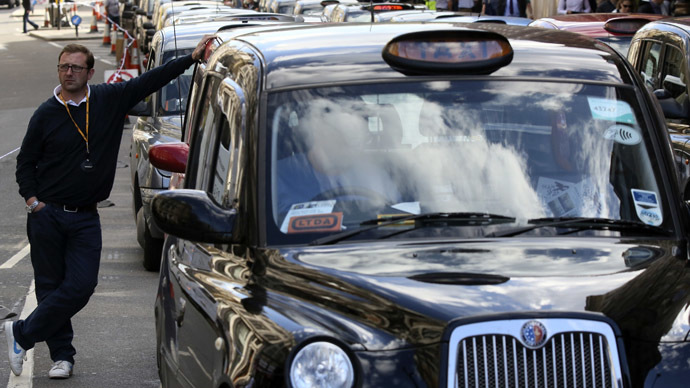 London's taxi drivers have been hiring private detectives in their war on controversial cab-booking application Uber which has been hoovering up business in London because of the competitive prices it offers.
The Licensed Taxi Drivers Association (LTDA) has been dispatching private eyes to research how the app's operators calculate their prices, reported the Sunday Times.
Uber is a San-Francisco based firm, valued at approximately $18 billion, and operates across some 45 countries worldwide.
The app allows people to located the nearest available taxi via GPS. Drivers, who use Uber-issued iPhones, take 80 percent of the fare, while Uber takes 20 percent. It can undercut the famous black London cabs by 50 percent in some cases.
However, the fresh criticism levied against the company has been on account of accusations of "surge pricing" – letting fares spike during periods of high demand – apparently including during rainy spells.
"Literally as soon as I got the first drops on my windscreen the surge is on. It's unbelievable," one former Uber driver told the paper.
There have also been accusations of drivers claiming to have arrived before they have actually done so, meaning that the 10 minute slot before they can declare their passenger a "no show" is over far more quickly. The passenger must then pay a cancellation fee of between five and ten pounds.
The LTDA has accused Uber of using a meter-based system, which legally can only be used in black cabs. It has utilized evidence gathered by private investigators posing as passengers for a case against the company.
"In order to prosecute them, we obviously had to get the evidence and ride in the cars and private detectives and all of that," said LTDA general secretary Steve McNamara. A civil case is now being launched. LTDA says that the use of the iPhone constitutes the illegal use of a meter.
But Uber's regional manager for the UK, Jo Bertram, denied the accusations.
"It depends on demand and supply. Not every consumer may want to travel at those prices but at least they have the option," Bertram told the Sunday Times.
She also stated that it makes no sense to falsely record arrival time. "The cancellation fee is the same as the minimum fare, so if you've driven five minutes to go and pick someone up and waited a few minutes you are better off to take that trip than to try and game it and cancel."
The Private Hire Vehicles (London) Act 1998 defines a taximeter as "a device for calculating the fare to be charged in respect of any journey by reference to the distance travelled or time elapsed since the start…or both."
While the issue of using smartphones as taximeters has been taken to the High Court in London – Uber has faced a series of legal challenges on a global level.
There have been a variety of cases spanning Orlando, Atlanta, Chicago and San Francisco for a variety of reasons including not paying airport fees and operating as a taxi service without a license, among other things.