Top US, Iran diplomats brainstorming nuclear deal compromise – reports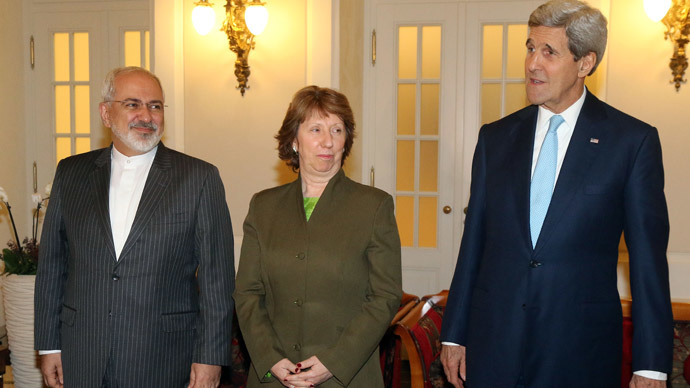 Top US and Iranian diplomats have decided to stay in Vienna to continue tense negotiations on the nuclear issue until a consensus suitable to both states is reached. Russia sees it as a good sign with FM Lavrov reportedly considering joining the talks.
The US Secretary of State John Kerry is continuing negotiations with his Iranian counterpart, Foreign Minister Mohammad Javad Zarif despite earlier announcements that America's chief diplomat was departing for Paris with his EU counterparts.
"Secretary Kerry will be meeting with... [former EU foreign policy chief Catherine] Ashton and Foreign Minister Zarif tonight," a US State Department official said. Kerry has indeed delayed his departure from Vienna in order to continue consultations, State Department spokeswoman Jen Psaki confirmed.
US and Iranian diplomats were drafting some ideas that could be passed to their state capitals for consideration, sources told Reuters.
Kerry and Zarif's decision to stay and continue negotiations is a good sign, Russian Deputy Foreign Minister Sergey Ryabkov said, adding that as the deadline approaches not a single hour of the P5+1 talks should be wasted.
"Everyone understands that you cannot miss a single hour, including flying time. If some delegations need additional instructions, this does not necessarily mean returning to their capitals," Ryabkov said. "The fact that ministers have stayed here, I see as a signs that the work can be successful," said the diplomat.
Compromise is the key to securing a pressing agreement by Monday's deadline, Ryabkov added.
"Agreement cannot be reached without concessions. If you expect only one party to make them, then it is not a compromise, it is an act of surrender. This is not what we do now, " Ryabkov said.
But even if a final agreement is reached, a UN Security Council resolution will most likely be needed to make the document legally binding, Ryabkov told journalists.
"It will not be an execution copy, it will be the text of the same character as the one adopted in November as a Joint Plan of Action, it will be adopted by acclamation. In order to add strength and binding nature to the text, it seems it will require the adoption of a UN Security Council resolution," said Ryabkov.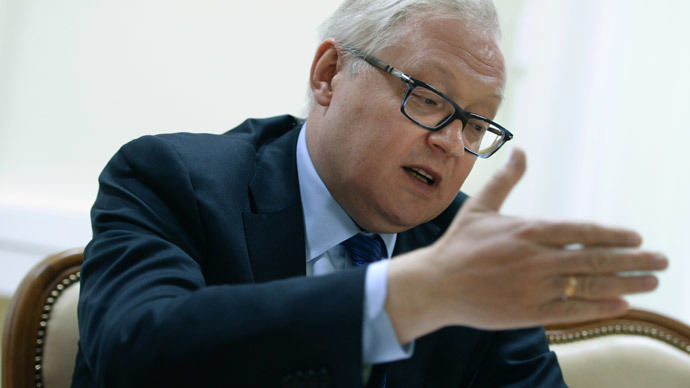 Rybkov was reiterating Russia's hope that Iranian nuclear talks will see a breakthrough. Earlier in the day, Foreign Minister Sergey Lavrov said that "all the elements of an agreement are already on the table and the task of diplomats now is to correctly put together a package."
"I am proceeding from the assumption that in the end common sense and the aim to reach a compromise on this long-standing problem will after all prevail," Lavrov told journalists in Moscow.
Russia's chief diplomat also held a telephone conversation with Kerry in which they both "emphasized it is necessary to make extra efforts in order to reach concrete agreements within the time limit agreed earlier," the Russian ministry said. Given the urgency of the problem, Lavrov is considering to joing the talks in Vienna over the weekend, Ryabkov noted.
The Iranian side said earlier in the day that there were no "significant" new proposals regarding Iran's nuclear program. However, the delegation is adamant to continue negotiations until a compromise is found.
"There were important discussions but no significant propositions worth returning to Tehran with," AFP quoted Zarif's negotiating team saying. "We have presented different ideas since (a meeting earlier this month) in Muscat. These ideas are not yet at the point for Zarif to be able to take them back to Tehran. As a result he is not going to Tehran and the talks will continue."
Iran, the United States, Britain, France, Germany, Russia and China began the final round of negotiations on a nuclear deal on Tuesday. The talks which seek greater transparency about Iran's nuclear program ultimately seek to end the West-imposed sanctions on the Islamic Republic. But while Iran is willing to negotiate, it is not willing to jeopardize its sovereignty while the US is reluctant to make concessions.