Iran stopped nuclear weapons program as sinful - Rouhani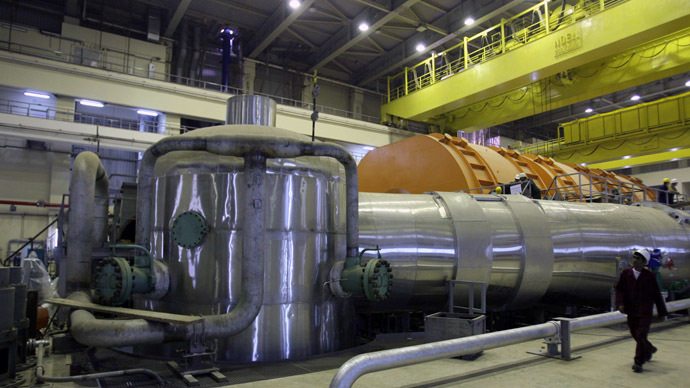 Iran abandoned its military nuclear program because owning nukes is a sin, the Iranian president Hassan Rouhani revealed in an interview. Ayatollah Ali Khamenei formalized the ban with a religious decree forbidding nuclear weapons.
It is not only international treaties prohibiting proliferation of nuclear weapons that made Tehran change its mind and put an end to the national military nuclear programme, Iranian President Hassan Rouhani told Defense Ministry officials on Saturday.
Apart from being "useless, harmful and dangerous", the very possession of nuclear weapons is a sin, said Rouhani, reiterating the country's Supreme Leader Ayatollah Ali Khamenei, who had issued a religious decree banning development and use of nuclear weapons.
"We are not after weapons of mass destruction. That's our red line," Rouhani said.
"Would Iran be after weapons of mass destruction, it would rather develop chemical or biological weapons which are easier to make," the Iranian president said.
As a signatory to the UN's nuclear non-proliferation treaty (NPT) Iran will remain committed to its obligations not to build nuclear weapons, but will not compromise on its right to enrich uranium and produce nuclear fuel for power generation, as well as producing radioisotopes to treat cancer patients, Rouhani stressed.
"We signed these treaties to show the world we are not after such weapons," the President told military commanders.
"Even if there were no NPT or other treaties, our belief, our faith, our religion and principles tell us not to seek weapons of mass destruction," assured the Iranian leader.
The policy of moderation and easing tensions with the outside world taken by the government led by Hassan Rouhani elected president last year is "not a tactic" but a genuine change in the Islamic Republic's foreign policy.
"The foreign policy of the Islamic Republic of Iran is based on easing tensions and building confidence with the world. This is not a tactic or slogan. Iran is not seeking tensions with others ... but we don't compromise on our dignity, independence, national interests and values," Rouhani said.
The new policies have already led to signing a historic interim nuclear deal between Iran and major world powers on November 20, 2013.
Iran took obligation to stop enriching uranium beyond 20 percent and dilute the already enriched stockpiles. In return the US and EU lifted a number of economic sanctions against Iran and unfroze Iranian assets in western banks.
The nuclear talks between Iran and six nations, five permanent members of the UN Security Council plus Germany, continue in Vienna.
You can share this story on social media: