Tehran's 'right' to enrich uranium need not be recognized by other nations – Iranian FM
In what could be a way around the main sticking point in negotiations between Tehran and the six world powers, Iran has stated that other nations need not recognize its right to enrich uranium. The statement was made by Iran's foreign minister.
Western diplomats have said that one the main problems during the negotiations earlier this month was Iran's insistence that it has the "right" to enrich uranium.
"Not only do we consider that Iran's right to enrich is non-negotiable, but we see no need for that to be recognized as 'a right,' because this right is inalienable and all countries must respect that," Mohammad Javad Zarif told ISNA news agency.
The US maintains that Iran does not intrinsically have that right under the Nuclear Non-Proliferation Treaty.
Uranium enrichment is the most sensitive area surrounding Iran's nuclear program. Enriching uranium to 20 percent means it can be used in nuclear medicines and for reactor fuel. It must be enriched to 90 percent in order to be used for a nuclear bomb.
Iran has repeatedly denied that it is seeking to build nuclear weapons. However, experts say that its enrichment facilities and stockpiles of enriched uranium far outweigh what it needs for medical and civilian purposes. 
Tehran is currently in talks in Geneva with the P5 +1 group, which includes the US, Britain, France, China, Russia, and Germany – all of which support the curbing of Iran's nuclear program.
Negotiations on November 7-8 appeared to be close to clinching a deal and ending the 10-year dispute, but a last minute objection from France stopped an agreement from being reached.
Iranian media blamed France for the lack of a deal, stating that the French were playing to Israeli interests.
Nevertheless, both sides have agreed to return to the negotiating table on November 20.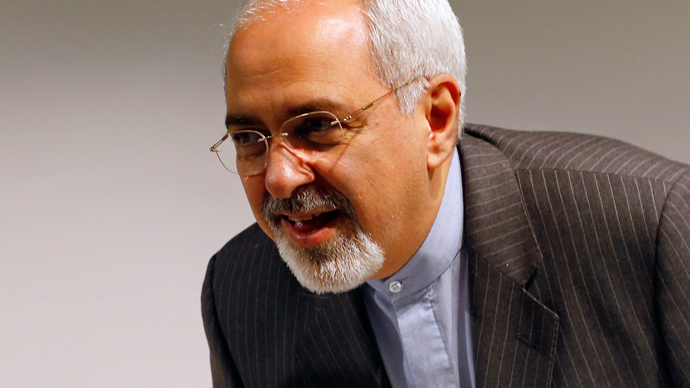 Zarif says he is keen to reach a deal. "We want to reach an agreement and understanding," he said.
The P5+1 countries are urging Iran to give concrete assurances that its nuclear program will not be used to build atomic bombs.
Tehran wants relief from western sanctions which have crippled its economy and driven up inflation. The sanctions have caused Iran's oil revenue and currency both to slump.
The exact details of the negotiations are unknown, but the West wants tighter inspections, for Iran to halt its uranium enrichment, and for it to close a reactor which could produce plutonium for nuclear bombs.
"We have reached a very sensitive stage of negotiations, and this stage we do not want to get into the details. It is necessary for them [the West] to lift the sanctions and economic pressures they have put on the people of Iran. We are moving in that direction," said Zarif.
The US has said that if Iran stops enriching uranium and gives International Atomic Energy Agency (IAEA) inspectors full access to its nuclear facilities, then there will be some relief from sanctions. But Washington says the core sanctions should remain in place so they can be cranked up again if Iran reneges on any deal.
US and West being 'untrustworthy'
Iranian political analyst Seyed Mohammad Marandi told RT that Iran had been very "reasonable" in its negotiations with the West in Geneva, and said the American side had been "discredited."
"The American side was discredited because the Americans agreed to one thing and then when the French came and changed the whole text, the Americans changed their position," he said, adding that State Secretary Kerry had the audacity to "claim that it was the Iranians at fault."
"It showed both to the Iranian public and the international community that the problem never lied with Iran and it was really the West that has been dishonest and has been trying to deprive the Iranian people of their rights," Marandi told RT.
But the US said immediately after the talks collapsed that it was Iran that backed out of the negotiations.
US Secretary of State John Kerry said that "at that particular moment," Iran had been unable to accept a deal.
He also played down differences in the Western camp, saying, "The French signed off on it; we signed off on it."
Experts say that progress between Iran and the IAEA is crucial to the end outcome and a vital parallel to the talks themselves.