4 Pakistani men receive death sentences in high-profile 'honor killing' of pregnant woman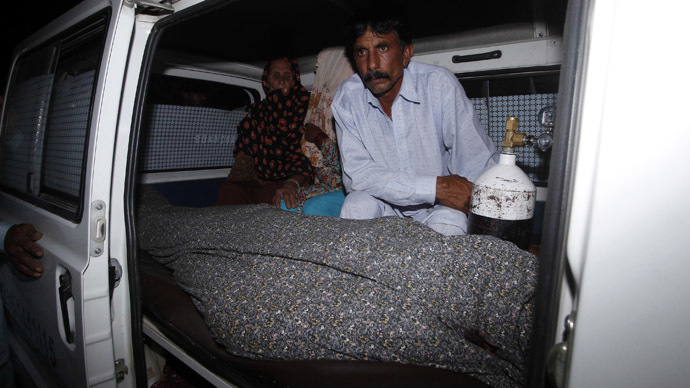 Four male relatives of a pregnant woman beaten to death outside a High Court in Pakistan in a so-called "honor" killing have been sentenced to death. The case, which made headlines worldwide, comes amid hundreds of similar ones going virtually unnoticed.
Those found guilty in the case are the father, brother, cousin, and a man claiming to be ex-husband of the murder victim, 25-year-old Farzana Iqbal, Reuters reports, citing defence lawyer Mansoor Afridi. One more relative of the deceased got 10 years in prison for the crime.

The men were convicted on charges of murder, terrorism and the killing of an unborn baby. In addition to their sentences, which in Pakistan are unlikely to be carried out as there is a moratorium on executions, have also been fined $1,000.

The extraordinary circumstances of the Farzana Iqbal murder which made the case stand out from hundreds of similar killings carried out in Pakistan annually were that the murder took place in broad daylight in a busy street of Pakistan's second-largest city, Lahore. The young woman was actually on her way to court to seek protection there, when she was stoned by a group of men, mostly her relatives.

The woman's husband, Muhammed Iqbal, 45, says he begged nearby police officers to intervene and stop the killing, but they refused.

Farzana's family was against her marriage. One of the attackers said he was the woman's husband and claimed she married Iqbal without divorcing him.
Pakistan has had a de facto moratorium on the death penalty since 2008, effectively making the four men's sentences life imprisonment.

Relatives of the convicted men say they will appeal the court decision, according to their lawyer, Afridi, who said the verdict was "a decision based on sensationalism."

"My clients will appeal against their sentences as we believe that the case had been politicized and the media coverage mounted pressure on us," Afridi told AFP.

The case was a much publicized one with Pakistan's prime minister, Nawaz Sharif, demanding action to catch the killers. It also attracted much international attention with the United States slamming the incident as "heinous."

Around 1,000 "honor killings" of women are estimated to be carried out in Pakistan every year. Most of them do not make the media headlines.

"In 2013, 869 women were killed in the name of honour in Pakistan," the Human Rights Commission of Pakistan (HRCP) said in a statement.

The watchdog said that in just under half of the cases those guilty were able to avoid punishment after having been forgiven by families of the victims, as is allowed by Pakistani law.

HRCP believes "honor" killings persist in Pakistan because of this particular legal practice.

Farzana Iqbal is not the only woman to suffer an "honor" killing in her family. Her sister, Rehana, suffered the same fate after she refused her family's instructions to leave her husband, and Muhammad Iqbal, her husband who tried to prevent Farzana's murder, himself murdered his own first wife to be with Farzana. The same practice of "family forgiveness" allowed Muhammad Iqbal to walk free after strangling his first wife, as his son, who reported the crime, later "forgave" him and withdrew the charges.