Deadly joy: Pakistani villagers face death for wedding dance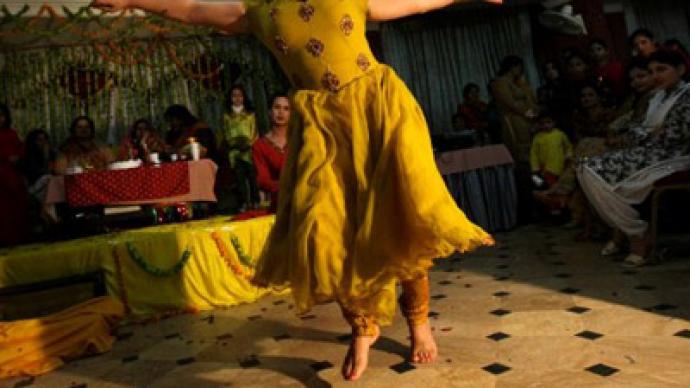 A joyful wedding dance may cost six Pakistani villagers their lives after they allegedly violated tribal customs. A local police chief is racing to rescue two women, waiting for death tied up and starving, and the four men, who are now on the run.
The two women and four men, all of them married, took the liberty at their friends' celebration – a rare moment of fun in a remote mountain village, 109 miles north of the capital.Unfortunately for them, the dance was caught on a mobile phone and leaked to the Internet, showcasing the violation of gender segregation, which has been practiced in their tribe for centuries. Outraged by such a blatant breach, the local council ruled that the six "stained the honor" of their families and must be sentenced to death. Thus far, only a lucky chance prevented the council from killing them. It was decided that the men should be killed first, but they managed to run away. So as long as they are on the run, the women are relatively safe – though they are being held, tied up with ropes and starved, their relatives say. A district police office sent a rescue team to the village. "There was no clear evidence the men and women had been inter-mingling," police officer Abdul Majeed Afridi told AFP. "The video shows four women singing and a man dancing in separate scenes and then another man sitting in a separate shot. This is tribal enmity."The relatives of the accused say the video has been engineered to defame the tribe."Since our family is affluent and owns vast acres of forestland, orchards and agriculture farms in Bando Baidar village, they hatched a plot to deprive us of our property," Muhammad Afzal, elder brother of the two men condemned to death, told Asian News International.Around 1,000 women and girls in 2011 alone were murdered for "defaming their family's honor," according to the Human Rights Commission of Pakistan. This stems from the conservative Muslim tradition where women are often treated as second-class citizens.
You can share this story on social media: