Happy Meals again: McDonalds reopens flagship Moscow store after 3-month closure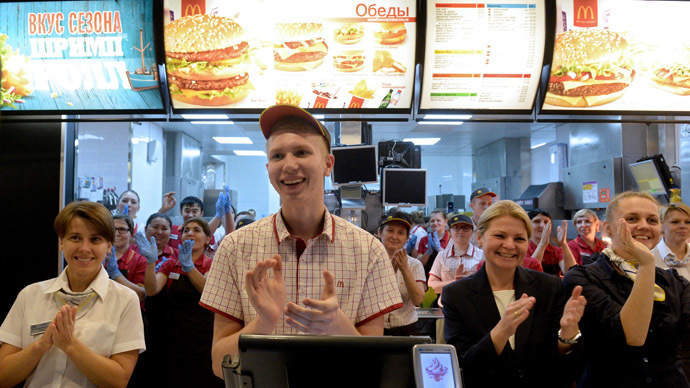 The first McDonalds restaurant in the Soviet Union is back in business after having been out of action for three months. It was shut down after Russian health officials cited "administrative violations," alluding to poor hygiene in the outlets.
There were only a dozen or so people waiting by the front doors on a frosty morning for the restaurant to open its doors, unlike in 1990 when intrigued locals queued for hours to get a first taste of a Big Mac 'n' fries. However, the familiar golden arches just off Tverskaya Street in central Moscow are now open for business once again.
"We have obtained agreement from the Russian public health agency to reopen our Pushkin Square restaurant," McDonald's spokeswoman Svetlana Polyakova told AFP. Another McDonald's outlet also reopened just outside the Russian capital on Wednesday, while another will be serving Big Macs again Thursday.
A happy day for #Russia! #McDonalds staff applaud reopening of sanctions-shut branch pic.twitter.com/y14wHmsHAA

— Jake Rashbass (@JakeRashbass) November 19, 2014
Speaking in August when the central Moscow outlet, along with another eight across the country, the government's health watchdog Rospotrebnadzor stated: "Multiple violations of sanitary norms were detected in the sourcing of food and waste disposal in McDonald's restaurants during inspections carried out between the 18th and 20th of August."
There are currently 461 McDonald's restaurants in 85 cities across Russia, which are sold on a franchise basis to local investors or companies in the country.
Checks were undertaken on 170 outlets, while McDonalds was accused of "consumer fraud" as the company had not correctly stated the energy value of its food, which was one of around 80 administrative cases, which were filed by the watchdog in August.
The closure of the outlets happened at around the same time that Russia introduced retaliatory sanctions on food produce from the EU and US, after they had introduced sanctions on Russia for what the West saw as its perceived role in the unrest in Ukraine.
Speaking in August, Deputy Prime Minister Arkady Dvorkovich said, "No one is talking about [a ban on McDonald's in Russia] at all," he told reporters. "It has just happened that the inspections were completed at the same time (as the ban on Western goods)."
However, one McDonald's outlet near the Kremlin on Manezhnaya Square is still shut, despite being allowed to reopen, though the company's spokeswoman, Polyakova, did have some good news for those wanting to take their kids along for a Happy Meal.
"Yesterday the suspension period introduced by the court ended, but the restaurant is undergoing reconstruction work. Therefore it will only reopen in January 2015."
The fast food giant has not enjoyed the best of times in the second half of 2014. The company's profits slid in stores open at least 13 months, taking a worse-than-expected hit in August after experiencing a fall of 3.7 percent, the Oak Brook, Illinois-based hamburger chain said in a statement Wednesday. This is the biggest monthly drop since 2003, according to Bloomberg. Market analysts had expected a 3.1 percent drop in earnings.
Across Europe, where McDonald's brings in a hefty 40 percent of its total earnings, proceeds were down 0.7 percent.
Much of the decline was due to the closing of stores in Russia as well as a rotten meat scandal in China.