​McDonald's to pay $27mn compensation over death of two teenagers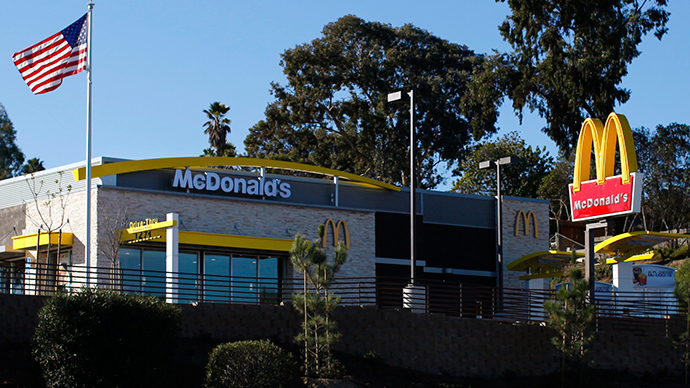 McDonald's has been ordered by a US court to pay $27 million compensation to the families of two dead teenagers. The fast-food chain was found guilty of lax security at a restaurant near Houston, Texas which potentially led to their deaths.
In February 2012 Denton James Ward, an 18 year-old Blinn College student was beaten to death by a mob at the McDonald's, his 19 year-old girlfriend Lauren Bailey Crisp died in a road accident when trying to get Ward to a hospital.
"This restaurant had a horrible history", Bloomberg quotes Chris Hamilton, an attorney for the Crisp and Ward families, citing over 200 police responses to complaints over the previous three years, viewing the site as a "drain on their resources."
"This was a dangerous location, and McDonald's knew it," Hamilton said. "Yet they did nothing to prevent their senseless deaths."
The Texas State Court jury ordered McDonald's to pay the Ward family $16 million and the Crisp family $11 million.
The verdict is likely to be appealed. The award to the Crisp family is particularly vulnerable as Lauren was injured away from the McDonald's location, in the car where the driver trying to take Ward to a hospital crossed a red light.
"We respectfully disagree with the jury's verdict," Bloomberg cites Terri Hickey, a McDonald's spokesperson, taken from the e-mailed statement, citing that restaurant will appeal.
This is the second legal setback in two days for McDonald's after the US National Labor Relations Board (NLRB) investigation said the world's biggest fast-food chain should share responsibility for employment violations by some of its franchise operators.
The food chain is also dealing with the aftermath of the interruption of meat supplies in its Chinese and Japanese outlets. One of its main chicken and beef providers, Shanghai Husi Food, was accused of using contaminated and expired meat in fast-food products.
You can share this story on social media: