Putin: Mutual respect, non-interference will improve relations with US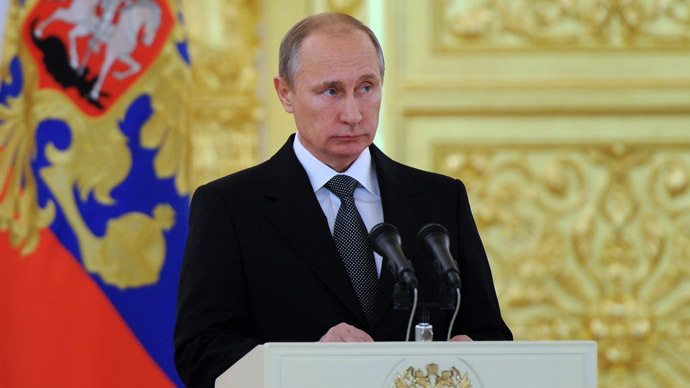 Vladimir Putin has accepted the credentials of new US Ambassador John Tefft, and said that he hopes for a thawing in ties with Washington, based on mutual respect – and both sides keeping out of each other's backyards.
"We are ready for practical cooperation with our American partners concerning a wide range of issues under the principles of mutually understanding each other, without interfering in each other's internal affairs," Putin said at a ceremony at the Kremlin, where he accepted the credentials of 15 new ambassadors to the country, including US Ambassador John Tefft.
Putin said that Russia and the US share responsibility for ensuring safety and stability around the globe, and reiterated that Moscow was willing to work with the US following strained relations between the two countries.
Underlining the importance of the two countries' roles around the world, Putin said, "Russia and the US have a particular responsibility to support safety and stability in the world and to counter global challenges and threats," according to a transcript of his remarks reported by RIA Novosti.
The official presentation of the 15 ambassadors took place in the Kremlin. The new US Ambassador to Russia, John Tefft, takes over from his predecessor, Michael McFaul, who left his post following the conclusion of the Sochi Olympics in February.
PHOTO: John F. Tefft officially accepted as the US ambassador to Russia pic.twitter.com/dNGuagwUcC

— RT (@RT_com) November 19, 2014
Among other issues, the crisis in Ukraine, where Washington has accused Moscow of backing anti-government forces in the southeast of the country, as well as Crimea voting to cede from Ukraine, has not helped relations between the two countries.
Meanwhile Russia has been critical of US sanctions imposed on Moscow for what Washington perceives as its role in the unrest in Ukraine.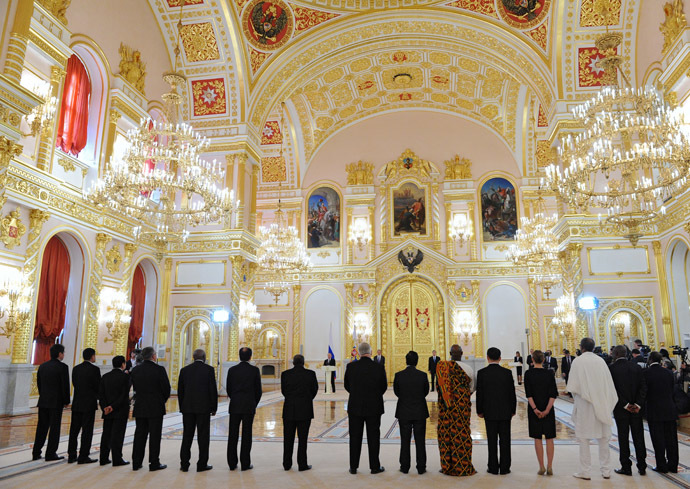 Ambassador Tefft has experience of working in countries of the former Soviet Union, while he also has a history of unrest following him wherever he is posted.
He was Ambassador to Georgia in 2008 when Georgian troops attacked South Ossetia, leading to a short military conflict in the region.
Meanwhile, he left his position as ambassador to Ukraine shortly before the Maidan protests broke out in late 2013, which forced the democratically elected President Viktor Yanukovich to flee.
Photo: POTUS meets with John F. Tefft, the new U.S. Ambassador to #Russia, in the Oval Office today: https://t.co/kuvQ9Z8lTJ

— @NSCPress (@NSCPress) August 28, 2014
On October 27, ABC News accused Russia of Cold War-style harassment of US embassy diplomats, which included slashing, hacking and breaking into diplomatic apartments.
Reporting on the issue at length, ABC's Kirit Radia listed a number of cases when US officials – none of whom were named – were targeted by Russia's "aggressive, Soviet-era counterintelligence tactics" of intimidation and harassment "believed to be led by Russia's Federal Security Service."
The report specifically focused on Ambassador McFaul, who also "was targeted by aggressive actions."
The Office of Inspector General described McFaul's treatment as "a level of petty and more serious harassment far exceeding that experienced by his predecessors." However, McFaul declined an opportunity to respond to ABC's report regarding the allegations.
You can share this story on social media: