Dutch mom travels to ISIS Syria stronghold to save daughter from jihadist 'lover'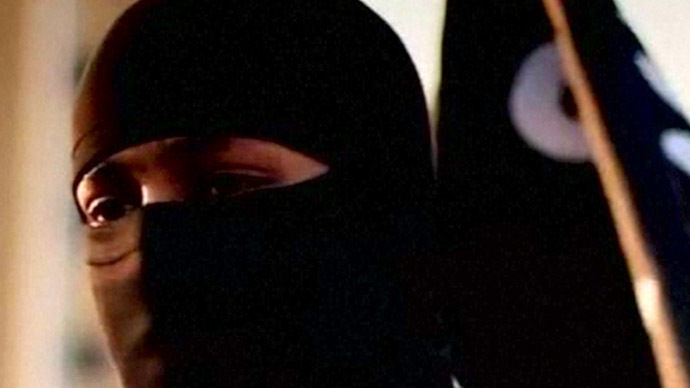 A mother from the Netherlands has pulled off a daring rescue mission to free her daughter from her jihadist "lover" in Syria. Dutch police warned her not to go, but she went to ISIS-controlled Raqqa, found her daughter and brought her safely to Turkey.
At the age of 18, the daughter – whose surname, like her mother's, has not been released by Dutch media – became radicalized and changed her name to Aicha. The teenager traveled to Syria in February on converting to Islam, after becoming infatuated with a Dutch-Turkish jihadist, Omar Yilmaz, who she had seen being interviewed on television. She went to the Middle East with plans of marrying the former soldier and sent a Whatsapp message to her mother through lawyer Francoise Landerloo in April.
"Love that you are so worried. Sometimes you got to do what you got to do. This is what I think is right." This was the last information that the mother, called Monique, had that her daughter was alive, the Dutch news site Limburg reported.
Monique, who lives in the Dutch city of Maastricht, traveled to Syria in late October around the time of Aisha's birthday to try and track her down, but to no avail. She was not to be deterred, however, and after receiving a "cry for help" from her daughter, she went to Syria again. "She wants to come home, but cannot leave Raqqa without help," Landerloo said.
Monique asked Maastricht police to try and help in her quest to bring her daughter back to the Netherlands. However, they proved to be of little assistance, saying merely that it was too dangerous to travel to Syria and that helping jihadists was a punishable offense.
Sometimes you've got to do what you've got to do': Dutch mother defies warnings and travels to Syrian city of... http://t.co/2p04ehnvF0

— EDL Unplugged-Debate (@EDLUnplugged) November 19, 2014
Monique flew to Turkey and made her way to the Syrian border. Dressed in a burqa, she went to Raqqa, a key power base for Islamic State (ISIS/ISIL) in Syria, where she arranged via social media to meet Aicha.
Monique and Aicha, who is now 19, are currently in Turkey, where the teenager is being held by the authorities because she entered Turkey from Syria without a passport. According to the family's lawyer, Landerloo, the Dutch Foreign Ministry is now in talks to bring the young woman home, which they hope to do by the end of the week. Landerloo said the reunion between the mother and daughter was "emotional."
AIVD, the General Intelligence and Security Service of the Netherlands, has warned against any travel to Syria, saying: "Don't go there, and if you are there, leave the country," the NL Times reported. "Our embassy in Turkey is sometimes in contact with parents, but there is not an overload or a wave of parents phoning them."
The security service said it does not expect a surge of parents to follow Monique's example, when asked if they had been contacted by other families who had relatives who joined Islamic State in Syria.
Earlier this month, the Dutch National Coordinator for Counter-Terrorism and Security (NCTV) announced plans to set up an independent support system for jihadists' families. This support center is intended to offer assistance to parents like Monique.
In October, a 14-year-old boy was suspended from school in the Netherlands after posting a video in which he said he belonged to Islamic State and wanted to decapitate Jews. The student, who is of Balkan decent, was identified only as Ilhan M.
In the video, which he posted online, he said: "Hi, I am from ISIS and I would like to cut off the heads of Jews," which was followed by a series of insults about Jewish women, according to the De Telegraaf newspaper.
AIVD estimated in the summer that there were in excess of 100 Dutch passport holders fighting for Islamic State in Syria and Iraq.