​'Heartbroken, in despair': Total CEO plane crash plow driver writes to victims' families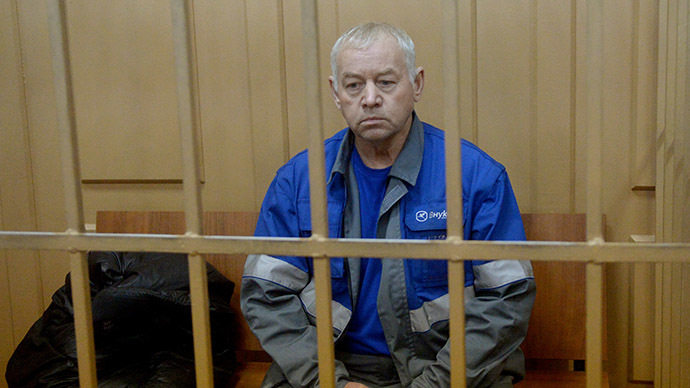 The driver of the snow plowing machine which collided with Total CEO's plane during takeoff in Moscow's Vnukovo is "heartbroken" and "in despair", he told the victims' families in a letter he wrote from detention amid the ongoing investigation.
The photos of the letter handwritten by the 60-year-old Vladimir Martynenko from detention were published by the lawyer of the accused on his Facebook page.
The driver of the snow plow that collided with the plane of Total's CEO Christophe de Margerie in October said that he is deeply troubled by the tragedy and is ready to answer for his crime according to the law if he is proven guilty.
"My heart is broken. I don't know how to convey my suffering of this tragedy, in which your relatives died," he wrote. "I have a family and understand how scary it is to lose them."
"I keep thinking and questioning how could this had happened?!" he wonders, recalling that night in his head over and over again.
Martynenko claims to have been fulfilling his official duty as usual, "following instructions".
"I don't understand how could it have happened that they died and I stayed alive" he said adding that he feels guilt and despair. "I don't know how to go on with my life with this scar on my heart," Martynenko said in the letter.
WATCH:First video: Total CEO's Falcon 50 plane crash site in Vnukovo Airport
He promised to cooperate with the investigation and the international committee to find the causes of the accident and the ones responsible. After the accident, during interrogation Martynenko confessed he didn't notice entering the airport runway and didn't see or hear the plane taking off. The investigation showed the driver had 0.06 percent blood alcohol level. However, Martynenko's lawyer, Aleksandr Karabanov said that the accused suffers from an acute heart condition and does not drink at all.
READ MORE:Investigators say snowplow driver 'drunk', lawyer rejects claim
The CEO's business Falcon 50 jet collided with a snow removal truck at Moscow's Vnukovo Airport during takeoff shortly before midnight October 21. Three people, including Martynenko, were detained, two more were subjected to home arrest – all are under investigation for suspected violation of air-traffic safety rules. If found guilty they may face seven years in prison.
On Tuesday, the Parisian General Prosecutor's office announced that it has opened a new investigation into the matter on the charges of manslaughter and delegated two judicial investigators with power to call on witnesses, and forward the case to court to initiate a trial.