German neo-Nazis tricked into holding fundraising walk for anti-fascist charity (VIDEO)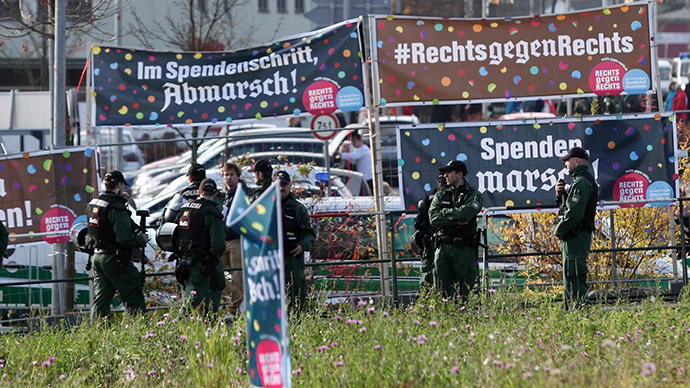 In an effort to fight neo-Nazis in Germany, a local charity group decided to raise funds to fight extremism by staging a charity walk. The twist? It's the hundreds of right-wingers who - by marching - will be raising money against themselves.
Every year hundreds of supporters of Adolf Hitler's ideology flock to the small town of Wunsiedel on November 15, for a pilgrimage to the place where Hitler's deputy, Rudolf Hess, is buried. While the grave was removed in 2011, the neo-Nazis continue to disturb residents' peace in this town near the Czech border.
But this year, an anti-Nazi campaign, dubbed "Rechts gegen Rechts" (Nazis against Nazis) have turned the tables by sponsoring the neo-Nazis march, raising charitable funds to help rehabilitate defectors from the neo-Nazi movement.
The initiative, called EXIT-Germany, saw the town's streets painted with slogans encouraging the marchers to keep on going, as for every meter the 200 neo-Nazis walked, 10 euros were donated for the benign cause by local businesses.
"We wanted to create an alternative to counter-demonstrations," Fabian Wichmann, an education researcher at EXIT-Germany, told The Local.
Pink banners were prominently displayed around the march's route, with puns ironically thanking the neo-Nazis for their walk, as it resulted in a donation to fight extremism in Germany. One banner read, "Final sprint instead of final victory."
"It was an absolute success," Inge Schuster, the spokesperson for the mayor of Wunsiedel, told The Local. "It created something positive out of [the march], including the €10,000 donation for EXIT-Germany."
At the finish line of the neo-Nazis' memorial march, locals showered the neo-Nazis with confetti and gave out ironic certificates of completion.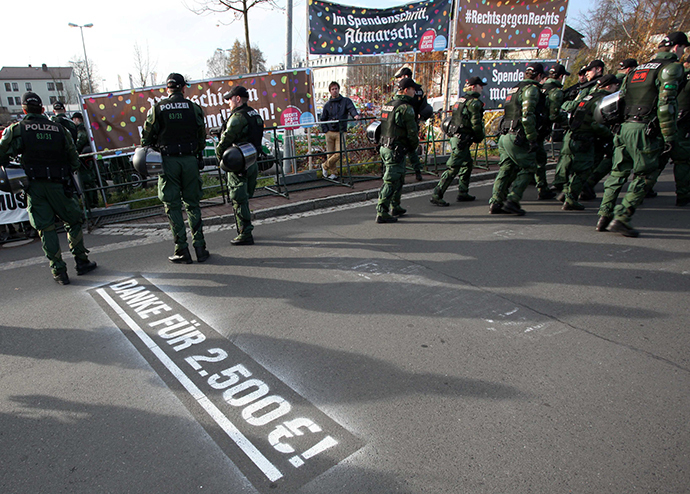 You can share this story on social media: