'Outraged' French union urges Hollande to honor Mistral deal, 2,500 jobs at stake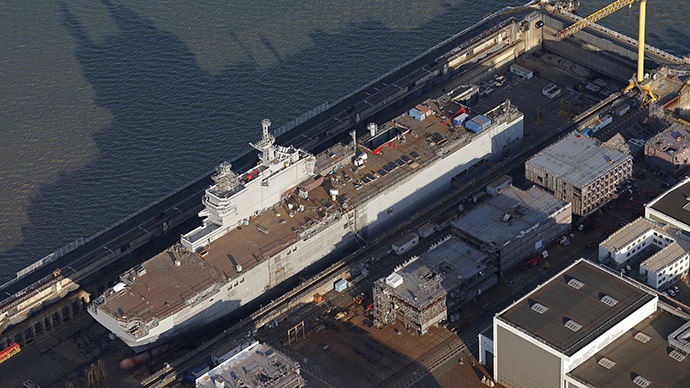 One of the French biggest union federations, Workers' Force, has urged Paris to fulfill the Mistral deal and deliver the two warships to Russia, otherwise 2,500 shipyard employees may lose their jobs.
The union expressed "shock and outrage," Le Figaro reports, after Paris postponed the delivery on the Mistral helicopter carriers to Russia due to pressure from the US and EU, which imposed several waves of sanctions against Moscow after Crimea joined Russia over the Ukraine crisis.
President Francois Hollande's decision has put 2,500 workers at risk of redundancy, which is absolutely unacceptable, Workers' Force representatives told Le Figaro newspaper.
"It would've been great if the first ship is delivered so that we have a chance to finish the second one," an employee at the Saint-Nazaire shipyard, where the mistral ships are built, said.
Workers' Force (Force Ouvrière) is the third largest union federation in France, with over 300,000 members.
READ MORE:Mistral ships won't be delivered to Russia Nov. 14 – French Defense Minister
Russia and France signed a €1.12 billion ($1.6 billion) contract for two Mistral-type ships in June 2011.
Under the deal, Russia was supposed to receive the first of the two warships, the Vladivostok, in October this year, but the mood in Paris changed.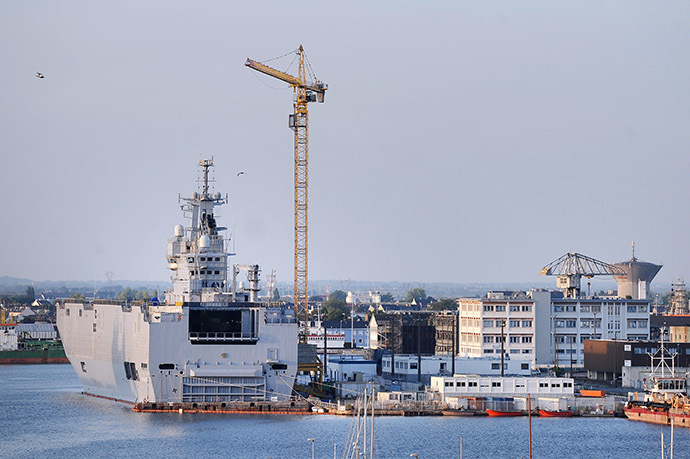 A high-ranked source in Moscow told RIA-Novosti news agency on Friday that France has until the end of November to deliver the vessel, or face a large penalty for violating the contract.
READ MORE:NATO has no money, capability to buy out Russia-bound Mistral warships – source
However, Hollande said on Sunday that "there's no pressure of time" on him to come up with the ruling on the Mistral's future.
"I will take my decision without any pressure, wherever it may come from, and based on two criteria — the interests of France and the appreciation I have of the situation," the French president is cited as saying by AFP.
The second Mistral-class helicopter carrier, the Sevastopol, is scheduled to be handed over to Russia in 2015.
Russia also said that it would be able to build the Mistral-class vessels on its own if the deal with France fails.
The Mistral-type helicopter carriers can accommodate up to 30 light helicopters in their hangars and on deck. Russia also plans to arm the Vladivostok and the Sevastopol with 16 heavy aircraft.
Each ship can also carry up to 450 combat troops (or 900 for short missions) in addition to the crew, complete with amphibious transports, armor and a command center.
You can share this story on social media: