Koalas & kangaroos: G20 first ladies go wild in Aussie outback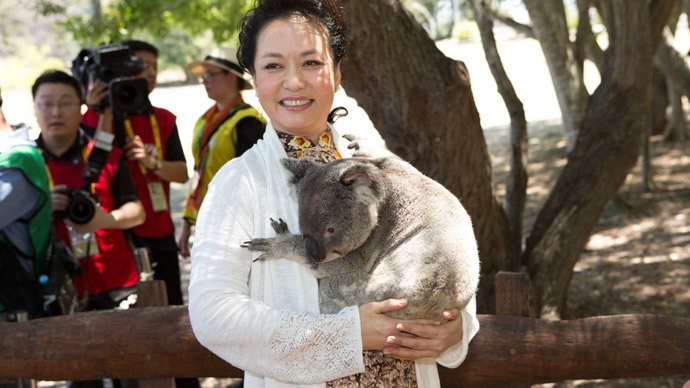 Prime Minister Tony Abbott's wife Margie introduced a group of G20 leaders' wives to the wild side of life Down Under, which included koala cuddling at an animal sanctuary on the outskirts of Brisbane.
The spouses of the G20 leaders paid a visit to the Lone Pine Koala Sanctuary on Saturday, where they fed kangaroos, cuddled cute and submissive koala bears and watched a sheep shearing show over morning tea.
READ MORE: Aussie koalas trained for cuddles with Putin, Obama & Merkel at G20
The visit to the 4.6-hectare park in the Brisbane suburb of Fig Tree Pocket was hosted by Margie Abbott, the wife of Australia's Prime Minister Tony Abbott. The wives of leaders from Canada, China, the European Union, Indonesia, Italy, New Zealand, Singapore, South Africa, Turkey, the OECD and the United Nations participated in the morning outing.
Koala bears, which sleep for up to 20 hours a day and feed on a diet of special eucalyptus leaves, are notoriously capricious. Hence, park officials had been training the animals how to behave ahead of the high-status visit.
"The number one tip is to pretend you're a tree, that's what koalas are used to. When you hold a koala stay nice and still, give them good support on their bottom so they know they are not going to fall," said Karen Nilsson, head koala-keeper at the wildlife sanctuary.
Lone Pine Koala Sanctuary, founded in 1927, is home to more than 130 koalas and a wide variety of native animals. Koalas, which are not actually bears but rather marsupials that carry their young in a pouch, are an iconic symbol of Australia.
Aside from koala bears, the sanctuary is also home to over 100 species of animals, including freshwater crocodiles, snakes, Tasmanian devils, barking owls and the Southern Hairy-nosed wombat, which is not quite as unattractive as its name would suggest.

More than 80 percent of Australia's wildlife is unique to the country.
Earlier Tony Abbott, Vladimir Putin and Barack Obamaalso had photo-ops with the soft and furry symbols of Australia. They were specially trained for the cuddling sessions with the G20 world leaders.
Putin & Abbott during 'koala session' before #G20Brisbane (via @LanaLukash) pic.twitter.com/NneBVVIbjU LIVE UPDATES http://t.co/k8yNrhTJ7B

— RT (@RT_com) November 15, 2014