Play it by ear: Obama stuns Aung San Suu Kyi with kiss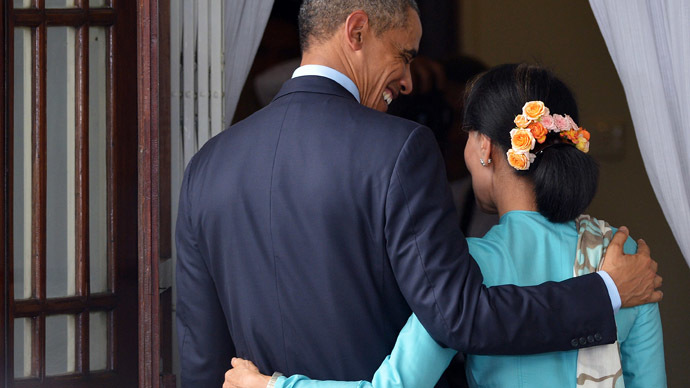 President Barack Obama gave long-suffering Burmese opposition politician, Aung San Suu Kyi, a stir by greeting his much lauded Nobel Prize winning counterpart with a big kiss on the ear during a stopover visit in Myanmar.
Obama arrived at Suu Kyi's home in Rangoon on Friday to give Myanmar's nominally civilian government a tongue lashing over its treatment of religious minorities, and a recent ruling that will keep 'The Titanium Orchid' out of the next presidential race.
Suu Kyi, released four years ago after spending the better part of two decades under house arrest, cannot run for the country's highest office due to a constitutional clause, which prohibits those with strong ties to a foreign national from running for president. Her sons are British citizens, as was her late husband. Obama threw his support behind Suu Kyi's bid to change the constitution.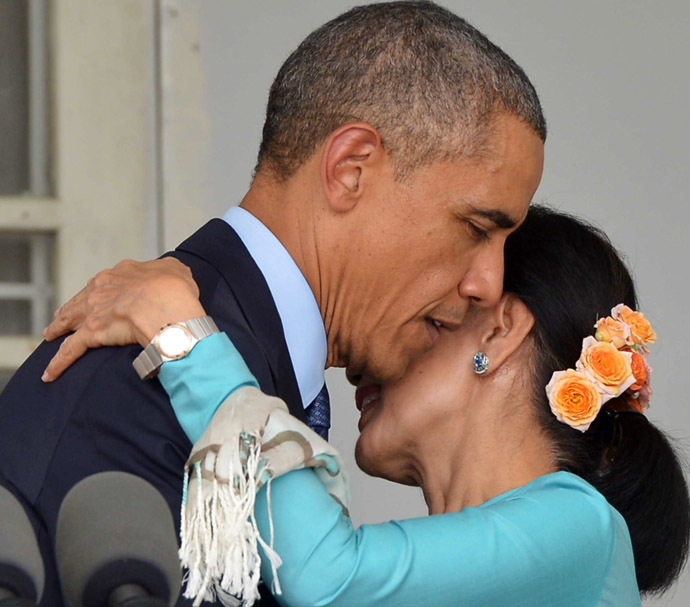 "I don't understand a provision that would bar somebody from running for president because of who their children are," AP cites Obama as saying at Suu Kyi's lakeside home.
"That doesn't make much sense to me" he continued.
But it was what Obama did out of earshot of the microphone that really left an impression on Myanmar's longstanding pro-democracy icon.
Following joint comments by the Commander in Chief and the alluring lawmaker, Obama gave Suu Kyi an awkward side hug before planting a big wet one right on her ear.
Suu Kyi, a widow of over 15 years, took the gesture with good grace.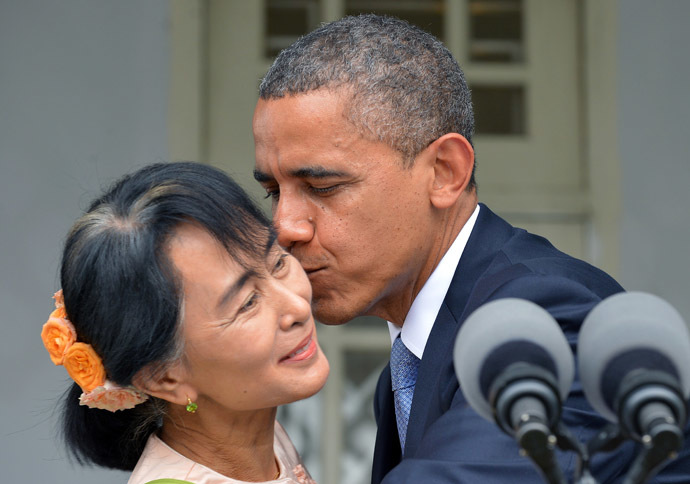 The same might not be said for Barack's wife, Michelle, who has previously gotten peeved with her man for being a bit too familiar with female world leaders.
During a memorial service for Nelson Mandela in Johannesburg last year, Michele Obama looked visibly upset as Obama bantered with Danish Prime Minister Helle Thorning-Schmidt, at one point putting his hand on her shoulder. Obama later took a selfie with Thorning-Schmidt and British PM David Cameron while Michele looked way.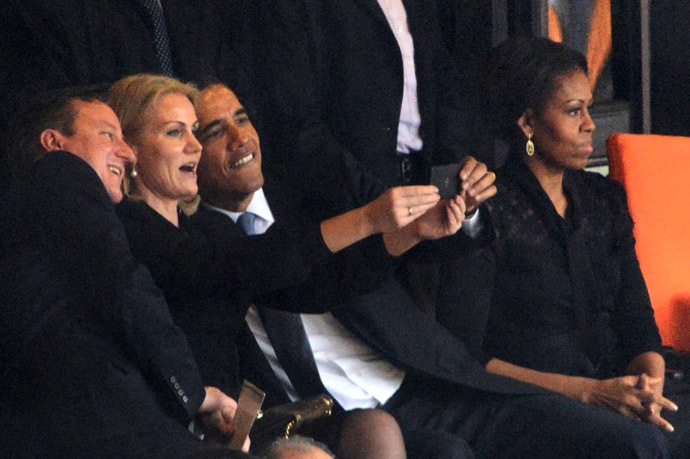 Later photographs showed that Barack and Michele had switched seats, with the mopey president's back inclined slightly to Thorning-Schmidt, while Michele rolled her eyes.
Of course, Obama's not the only world leader to spark controversy with a largely innocuous gesture, which happened to be photographed from every which way.
Earlier this week, Putin put a shawl around China's First Lady Peng Liyuan during a fireworks display at the Asia-Pacific Economic Cooperation (APEC) summit in Beijing.
The move spawned a fusillade of headlines in the cut of 'Coatgate.'
Chinese censors later scrubbed the footage of the incident.
And during the 2013 G20 summit in Saint Petersburg, Putin provoked a similar snarkstorm when he offered a shawl to German Chancellor Angela Merkel.
Putin, the blanket man: http://t.co/hHcKIGkfiN Remeber St Petersburg and Merkel? pic.twitter.com/LFdUnh1PwU

— Nikolaus von Twickel (@niktwick) November 11, 2014